I'm in love with this sandwich. My roommate is in love with this sandwich. It's a big old sandwich-loving-lovefest in this household. We have our own variations on this sandwich, but it comes down to a few good things: good bread, fragrant basil, ripe tomatoes, and some fresh mozzarella. And it's a cinch to make.
Caprese Salad Sandwich
2 slices of bread or 1 ciabatta roll
1 tomato, sliced
3 slices of fresh mozzarella
handful of basil leaves
kosher salt
freshly ground pepper
olive oil (optional)
Take your favorite bread. Something a bit heartier and crunchy is better. My favorite bread is the Trader Joe's Tuscan Pane. It seriously makes the best toast ever. Crunchy on the outside, soft on the inside…yum.
But yeah, take your bread, and if you want, sprinkle on a little olive oil. This bread is kind of holey, so it can be a bit messy. Ciabatta rolls work a lot better for this. My roommate sprinkles on a little balsamic vinegarette instead.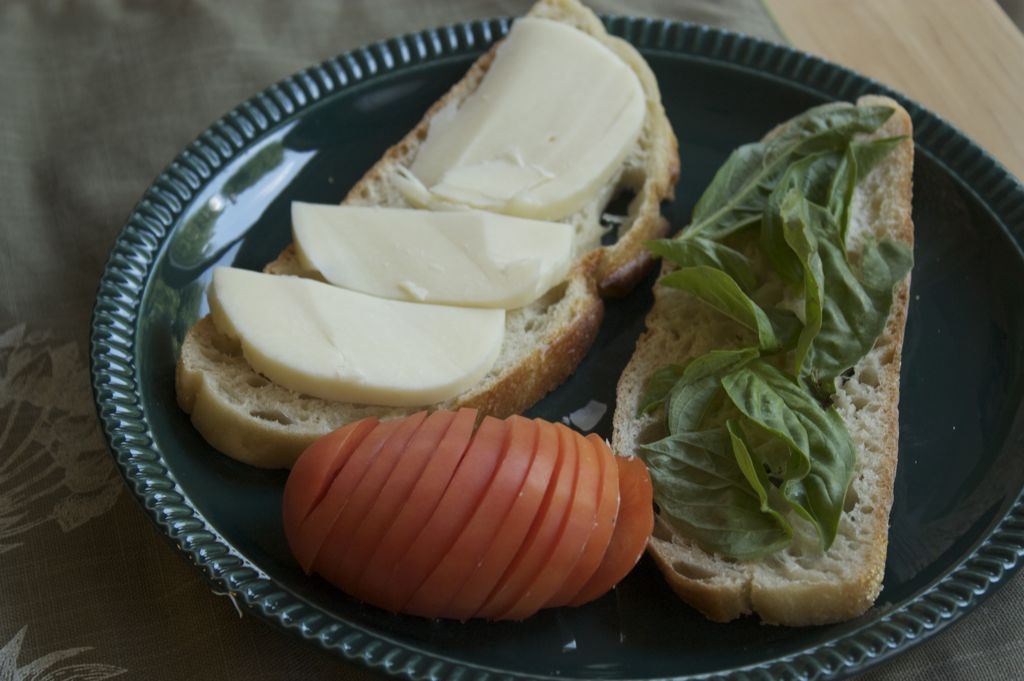 Fresh basil is best. I was tasked with taking care of Basil Bob while my friend was in Chicago for the summer. I really hope she did not expect Basil Bob to stick around for the summer. Because Basil Bob was not match for me. Despite my best intentions, Basil Bob barely made it to July. Sadly this meant I did not pick my basil off a plant, but instead off the shelf in the store.
Layer basil, tomatoes, and mozzarella on the bread and sprinkle with a little kosher salt and some freshly ground pepper. I like to put my tomatoes in the middle so the juices don't soak into the bread too much. In the summer, it's the perfect sandwich. It's light and healthy, yet with the right ingredients, full of flavor and general deliciousness. Plus, it has a cool name.