It's cold outside. Like cold. I went from sweating to shivering in a week. But cold weather always makes me think of soup, because soup is awesome. As I was wandering around the store today, with the clouds just waiting to burst open, I decided to make a potato leek soup.
Now, I didn't exactly know how to make potato leek soup, but that's what the internet is for. After perusing a few websites, I figured I could figure this out on my own with the gist of a recipe. Yeah, potato leek soup is really easy. Throw everything into a pot, blend it, eat it. That's it.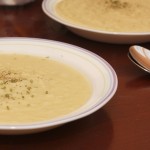 Potato Leek Soup
2014-10-21 22:25:38
Ingredients
5 large Russet potatoes
4 leeks
6 cups chicken stock
1 cup cream
1/2 tsp of chopped fresh thyme or ground thyme
a bay leaf
salt
pepper
Instructions
Peel and cut up the potatoes into medium sized chunks. Cut up the white parts of the leeks only and thoroughly wash.
In a large pot, combine the potatoes, leeks, bay leaf, broth, thyme, salt, and pepper. Bring to a boil and cook for 15-20 minutes until the potatoes are soft.
Using an immersion blender or in a regular blender or food processor, blend until smooth. Stir in the cream and cook for an additional 20 minutes until the soup thickens.
simmiecakes http://www.simmiecakes.com/