I've known my friend Melissa since our freshman year of college. She's a pretty fantastic person. Here are a few things about her:
Melissa and I met because we were apparently the only two girls in our writing seminar who did sports. Turns out we did the same sport. Gymnastics.
The first time I did gymnastics with Melissa she was wearing an Ithaca is Gorges t-shirt and black shorts. Is it creepy that I remember this?
When we were in college I used to say that Melissa reminded me of Rory from the Gilmore Girls. My thoughts were confirmed when a girl in her class (who I had never met) said the same thing.
Melissa is really really smart. She was so smart that during graduation she got to walk at the front of the procession holding a stick with a ribbon. Then she gave a speech. They don't just let anyone give a speech at graduation you know.
Melissa was a teacher for two years on the South Side of Chicago. She was one of the more…progressive teachers at her school. She also has very effective "teacher voice".
Melissa is now in law school. She still teaches children in the mornings. And does a lot of homework. Sometimes I don't see Melissa for long stretches of time because she is so studious.
Oh, and one last thing about Melissa. She really likes to bake oatmeal cookies. Oatmeal raisin, oatmeal chocolate chip, oatmeal pumpkin…and they are all really good.
So, when I saw this recipe, I immediate thought of Melissa. I think when she digs herself out from under her massive textbooks, I will share some of these with her.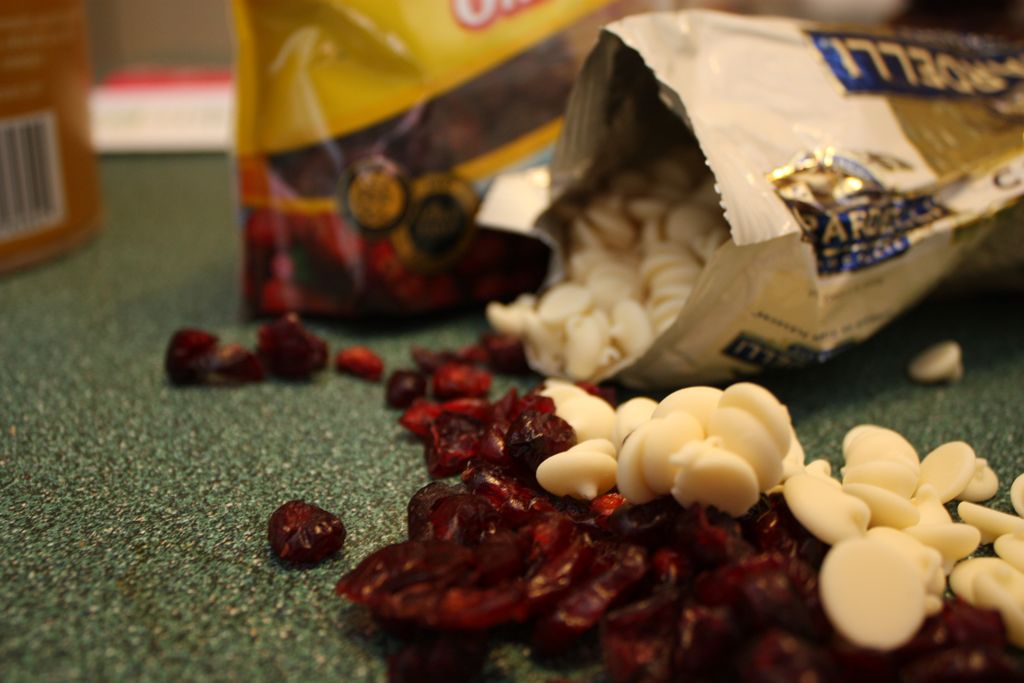 Oatmeal Cranberry White Chocolate Chip Cookies
adapted from Oceanspray.com
2/3 cup butter
2/3 cup brown sugar
2 eggs
1 1/2 cups of old-fashioned oats
1 1/2 cups of flour
1 tsp baking soda
1/2 tsp of salt
6 oz of dried cranberries
2/3 cup of white chocolate chips
This recipe is easy-peasy. I think it took me less than twenty minutes from start until I had warm cookies on my counter.
Preheat the oven to 375º.
Mix softened butter and brown sugar in a bowl with an electric mixer until fluffy. Add the eggs one at at a time making sure each egg is fully incorporated before adding the next one.
In a separate bowl, combine the oats, flour, baking soda, and salt. Slowly add this dry mixture to the wet one, mixing well so that it is all combined.
Stir in the cranberries and white chocolate chips.
Drop rounded teaspoonfuls onto an ungreased cookie sheet and bake for 10-12 minutes until golden brown. Let cool on a wire rack.
Makes about 3 dozen.