*Correction: Stuart would like me to point out that dressing like a clown only gets you half the girls.
My work is awesome.  I mean, my job is awesome too, but my work – spectacular. The people, the atmosphere, the whole nine yards. How awesome are we? We had a chili cook-off. In July.
While some may think chili is more of a cold weather food, we weren't going to let a little thing like weather dictate what we do. So, we gathered as many people as we could, got a bunch of them to make some crazy chili, and made it a ridiculous competition. And it turned out amazing!
I entered a chili in the competition. This is a picture of my chili before I added the tomatoes. It's so pretty! It was also called Chuck Norris' Oatmeal which won for Best Chili Name. And somehow I managed to get Best Bean Chili as well.
All-in-all it was quite a success. It was a stiff competition. The judges had to taste 23 different kinds of chili, and man, did they take their job seriously:
People seemed to enjoy the chili tasting as well:
This was a competitions amongst all the groups in the branch, and early on, we decided that SEM (my group) was going to have to step it up. So, not only did we have the most chili entries, we also all showed up dressed in red shirts and tan pants, had custom made shirts for the chili makers, and made some pretty sweet Awe-SEM stickers for everyone to wear. Our efforts were not lost though, as SEM won Best Dressed Chili Makers and generally shamed the other groups.
Of, course, some people took that Best Dressed title to a while new level: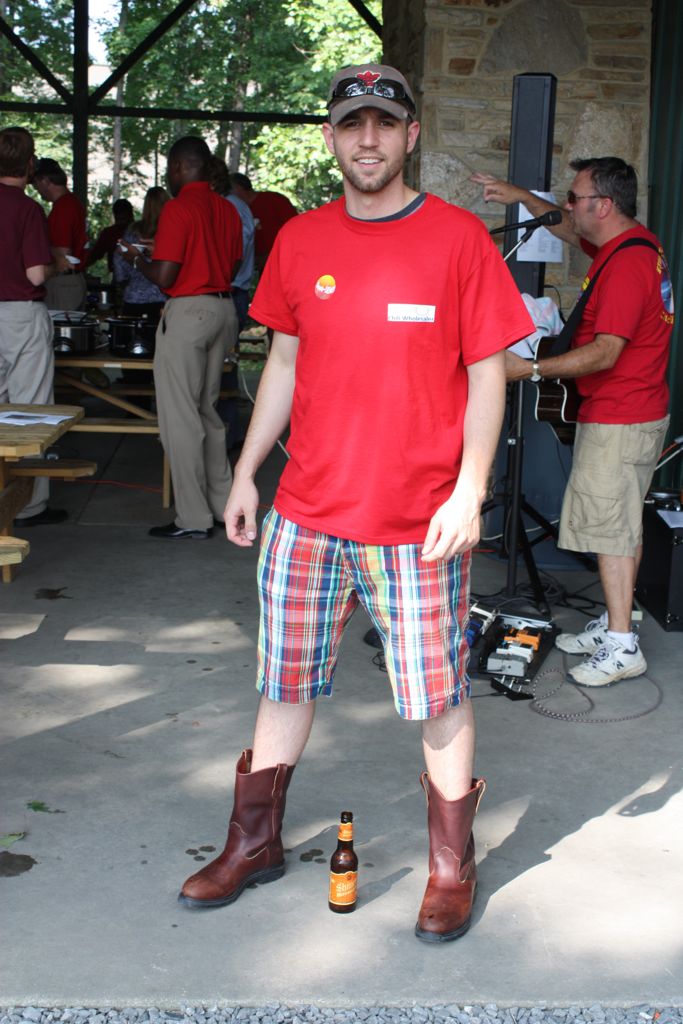 I'm not sure if the shorts or the boots are what put this outfit over the top. Stu Hill, husband of Kathy Hill (my most favorite commenter, Hi Kathy!) put this outfit together. He claims it really gets the girls. I mean, he's married, so maybe it does.*
The overall winners of the chili competition was the group from SEG. They got one obnoxiously large trophy to proudly display in their group office until the next event when SEM will claim what is rightfully ours!
Oh yes, and the cake. It's a pot of chili, just in case you can't tell. The cake itself is chocolate, chili-flavored. I was a bit skeptical at first, but it's actually quite a nice flavor. There's just a hint of chili flavor which really enhances the chocolate. The cake is quite dense, although the batter was super thin when I put in the oven.
The "chili" on top is a combination of chocolate covered raisins, Boston baked beans, French burnt peanuts, and M&Ms. I like the effect.
Chili Chocolate Cake
adapted from Scharffen Berger
1 cup plus 2 Tbsp all-purpose flour
1 cup plus 2 Tbsp cake flour
2 cups granulated sugar
1 tsp baking soda
1/2 tsp salt
1/2 cup unsweetened cocoa powder
1 cup unsalted butter
2 cups of water, divided
2 Tbsp chili powder
1 tsp vanilla extract
1/2 cup buttermilk
2 eggs
In a large bowl (or stand mixer), combine the flours, sugar, baking soda, salt, and cocoa powder until well combined.
In a small pot, cook 1 cup of water with the chili powder until simmering. Then, remove the pot from the heat and add the vanilla.
Add the butter to the dry mixture and mix on a slow speed until the butter is well incorporated and the batter resembles a coarse meal. This is the craziest way I've ever made a cake batter.
Increase the speed and add the remaining water and the buttermilk. Add the eggs one at a time and then add the chili water.
Pour the batter into two greased 9″ diameter pans. Bake in a 350º oven for 35-40 minutes until a toothpick inserted in the center comes out clean.
Cool the cakes on a rack.