I've always been at battle with chocolate chip cookies. Many a-recipe tried, many a-disappointment felt. They were always too cakey or too crispy or too dry. As a frequent baker, I have always felt a twinge of shame knowing the best chocolate chip cookies I make come from a package. Yes, that's right. A MIX. Because sometimes mixes are dang good.
BUT. Yes, BUT. I've found my recipe. Actually, Melissa found my recipe a long time ago and I finally decided to get around to making it myself. So maybe it's actually Melissa's recipe. Let's be fair, it's the New York Times' recipe. They know news and they know cookies. Who wouldda thunk?
These cookies are perfect. They are crispy on the outside, chewy on the inside. During this blizzard of ours, I want to wrap myself up in them. The ooey-gooey chocolate with a touch of salt (so elegant…even my salt-hating roommate likes it. I know, someone can hate salt??) brings these cookies to perfection.
They take a while to make. Perfection is found after a 24 hour waiting period, but it's SO worth it. You can make them right away too, but the extra time makes a big difference.
Chocolate Chip Cookies
adapted from The New York Times
8.5 oz (2 cups minus 2 Tbsp) cake flour
8.5 oz (1 2/3 cups) bread flour
1 1/4 tsp baking soda
1 1/2 tsp baking powder
1 1/2 tsp coarse salt
1 1/4 cups unsalted butter
10 oz (1 1/4 cups) light brown sugar
8 oz (1 cup plus 2 Tbsp) granulated sugar
2 eggs
2 tsp vanilla extract
1 1/4 cups chocolate chips
sea salt
I have a kitchen scale I use to weigh all of my ingredients. It's definitely the more accurate way to go, but if you don't have a scale, the volume measurements should work just fine.
Using an electric mixer, cream the butter, brown sugar, and white sugar until fluffy. Then add each egg one at a time, making sure it is well mixed before adding the next. Then add in the vanilla.
Sift the bread flour, cake flour, salt, baking powder, and baking soda into a bowl. Slowly add the dry ingredients to the sugar and butter (and eggs and vanilla) mixture until just combined.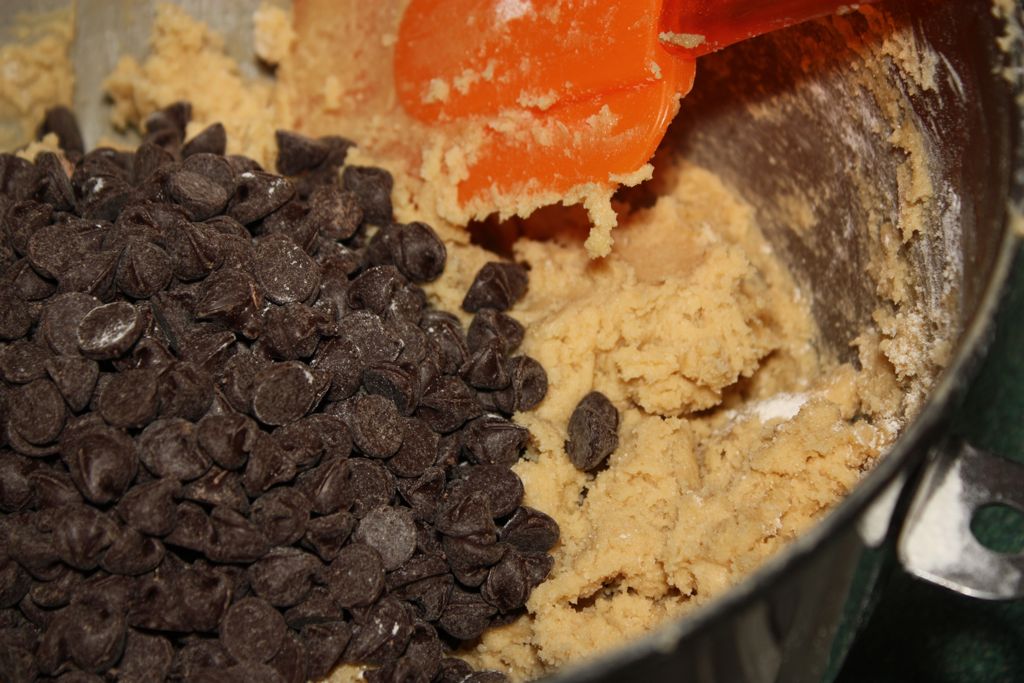 Mix in the chocolate chips by hand so they don't break.
Holy cow, this cookie dough is so good I kind of want to lick my monitor (is that weird? I don't care, I'm sort of drooling right now thinking of this).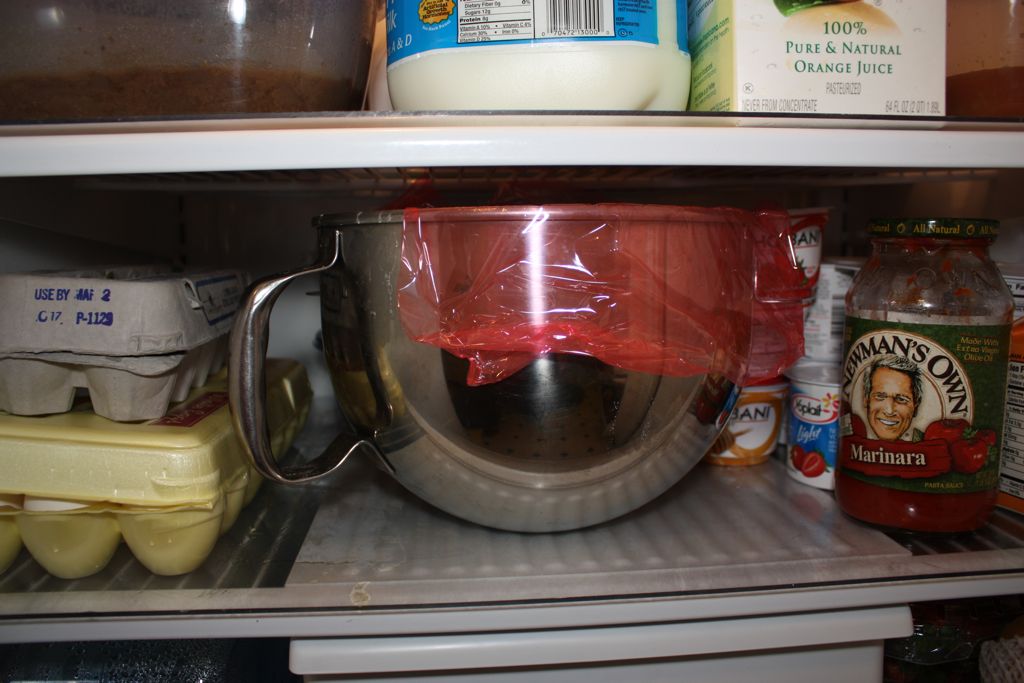 Now comes the hard part. Cover the dough with plastic wrap (so that it's pressed down, touching the dough) and stick it in the refrigerator for at least 24 hours. I promise, it's totally worth it.
Preheat the oven to 350º.
After the dough has thoroughly chilled, scoop out golf ball sized balls out dough and place on a parchment paper lined cookie sheet with about an inch between each ball. Sprinkle lightly with coarsely ground sea salt.
Bake for 18 to 20 minutes until golden brown. Remove from the oven and let cool on a wire rack.
Makes about 3 dozen cookies. I think I've already eaten at least 7.