Oh hey! Have a good Christmas? Do anything exciting over the holiday? See a good movie and eat some Chinese food?
I did all of those things. Except eat Chinese food. I did eat Beef Wellington though. It was my first Beef Wellington experience and has confirmed my suspicions that the basis of British food is meat, a few vegetables, and a flaky pastry crust.
But enough about that. What I want to talk about is this: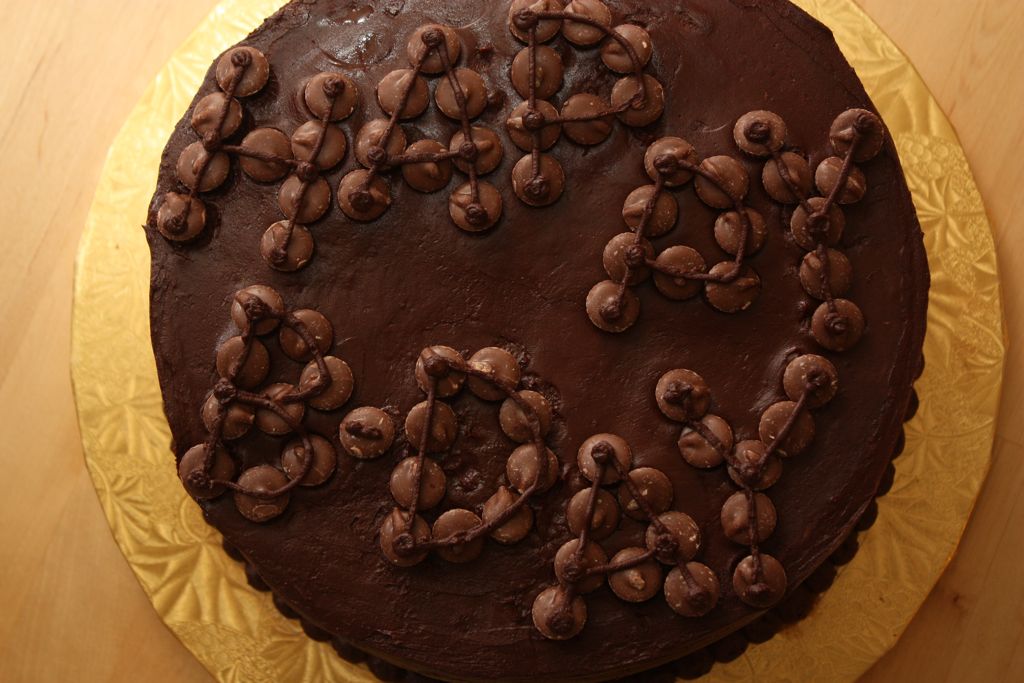 Looks like a cake, huh? Yeah, well it is. More specifically it's a peanut butter cake, covered in a dark chocolate buttercream icing. And on top? Super-mini peanut butter cups. Funny story about those peanut butter cups…
As I am the chief procrastinator when it comes to baking (I want everything to be as fresh as possible!), I kept forgetting to pick up some of those tiny peanut butter cups from Trader Joe's. It's the only place I'd seen them and I kept thinking I would get them the next time I was out. Well, the next time I was out turned out to be 8:30 PM the night before I had to deliver this cake. So I all so coolly drove over to my friendly neighborhood Trader Joe's walked up to the candy aisle, found the sign for the peanut butter cups, and…to my horror – they were SOLD OUT. In front of me stood a barren and empty shelf where my tiny peanut butter cups should be. Surrounding the emptiness were piles and piles of mini (but not tiny) peanut butter cups. My mind immediately went into overdrive as I pondered just where else I could get tiny peanut butter cups – Walmart? Harris Teeter? Wegmans? Did I actually want to drive all the way to Wegmans? How far was the next closest Trader Joe's? After a quick jaunt over to Walmart, it occurred to me, "Why don't you just ask if they have more tiny peanut butter cups?" Oh, right. So, back to Trader Joe's I went, where after asking a lovely, nice employee, was told, "Let me go look." And not 15 minutes later, did she emerge from the magical storage room, with a whole boxful.
So, moral of the tangent: reading my tangents are possibly not worth it. Also, do not wait until the last possible moment to make sure you have all the ingredients you need to make a cake.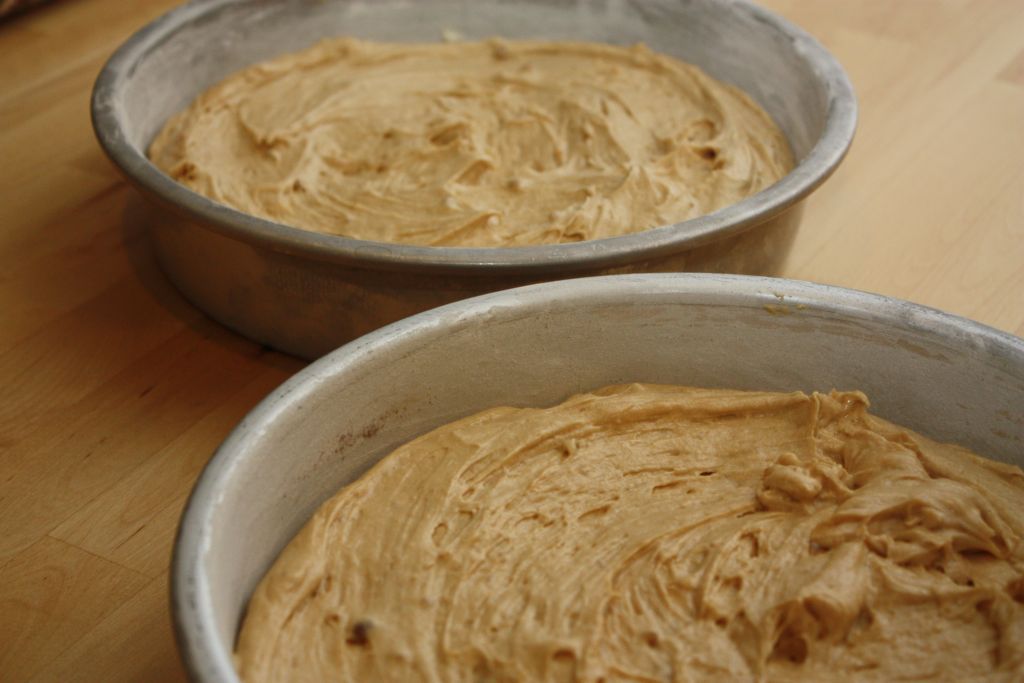 Anyways…this cake smelled amazing. As I mixed up the batter it sort of seemed like I had fallen into a peanut butter cup factory. And it just got more delicious from there.
Peanut Butter Cake
adapted from Bon Appetit
2 1/2 cups all purpose flour
1 tsp baking powder
1 tsp baking soda
1/2 tsp salt
10 Tbsp unsalted butter
1/2 cup creamy peanut butter
16 oz light brown sugar
4 eggs
1 tsp vanilla extract
1 cup buttermilk
Preheat the oven to 350º.
In a large bowl, beat the butter and the peanut butter until creamy. Beat in the sugar. Add the eggs one at a time, making sure each egg is fully incorporated before adding the next. Add in the vanilla.
In a separate bowl, sift together the flour, baking powder, baking soda, and salt.
Slowly add the flour mixture to the wet mixture, alternating with the buttermilk. Add the flour in 4 additions.
Pour the cake batter into two 9″ round greased and floured pans.
Bake for 30 minutes until a tested inserted in the center comes out clean. Cool completely.