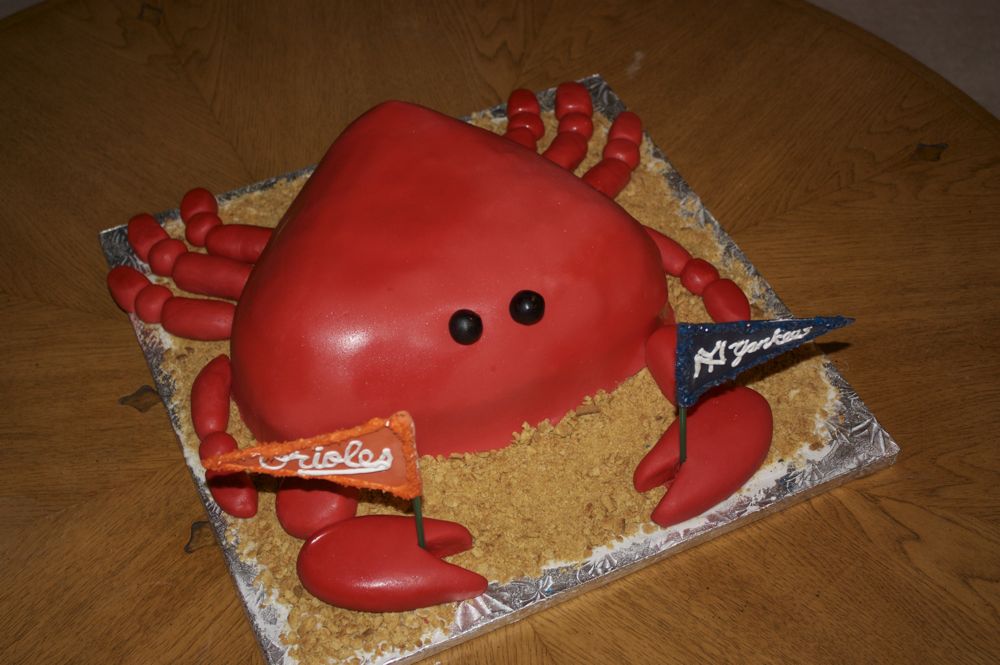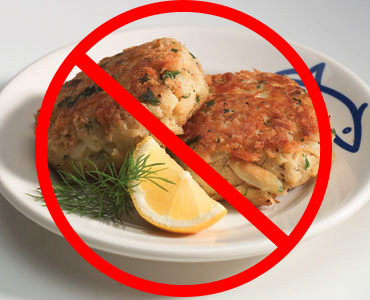 If you're looking for that savory, Maryland crab cake, you're in the wrong place. It's confusing, I know. But I honestly can't think of another good way to describe this cake. It's a cake. That looks like a crab. It's a crab cake. Oh, I guess I could say, "cake that looks like a crab", but really, that's just too many words.
Ok…onto the cake making. People usually wonder how I make my shaped cakes. Do I have special pans? Do I use templates? Do I make a 3D computer model of it before I make the cake?
Well, the answer to those questions is no, no, and no, but I'll show you the method to my madness.

I usually just use either a square or circular pan that's size is approximately close to the size that I want the finished product to be. For the crab cake, I made two 12″ diameter circular cakes.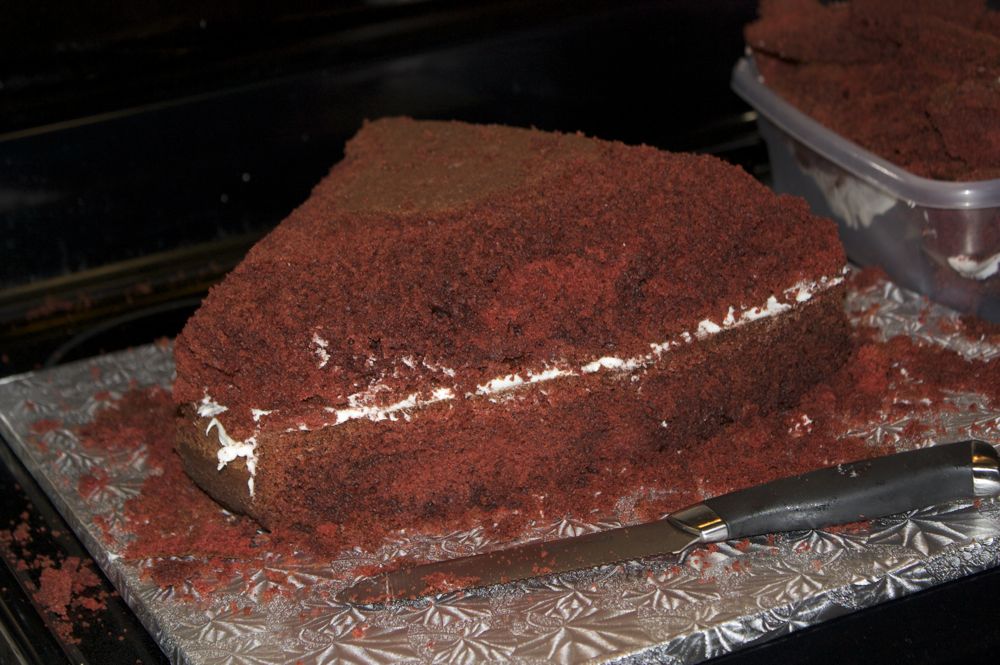 When it comes to shaping the cake, I mostly just do it by eye. Sometimes I use a ruler to make sure my edges are square, but usually it's just me standing there, carving a bit off here and there, stepping back to make sure it looks ok, and tweaking until I have something I like. I always use a serrated knife because it makes shaving the cake off much easier. I carved until I had a semi-triangular shaped cake for the body of the crab.
When I was satisfied with my shape, I covered the cake in a crumb coat of icing and a bunch of red fondant. I confess, I buy my fondant. I used to make it with marshmallow and powdered sugar, but it made too much of a mess and took too long to make. Also, to get fondant that red, I would probably be kneading in food coloring for hours and, let's be honest, I don't have that kind of time. To prevent corn starch from sticking to your counter top, sprinkle on a little corn starch.
Also, a crab doesn't normally chill on a silver square (unless it's cooked I guess), so I had to give him a sandy little beach to rest on. I spread some icing onto the board to help the "sand" stick. The sand is crushed up graham crackers. I don't have a food processor, so I did it low-tech and crushed them by hand in a plastic bag.
After that it was just a matter of shaping the many, many legs of the crab out of fondant. All those pieces are just rolled and formed out of fondant like you would form them out of clay. I even checked online to make sure I had the appropriate number of legs (5 sets, but they don't use the front ones to walk around…just in case you were wondering). To finish him off I gave him some black fondant eyes and named him Norman.
Now, Norman wouldn't be a proper baseball loving flag without some memorabilia. Since the game on Friday was between the Orioles and the Yankees, some team spirit seemed to be in order. So, like any good northeasterner, I gave him pennants!
The pennants were made out of gum paste that I colored using gel coloring. I sort of guessed at the color ratios until I got the my desired result. I then just rolled the gum paste out, cut out triangular shapes, and wrapped them around plastic sticks. I actually made these a day earlier, and let them dry overnight.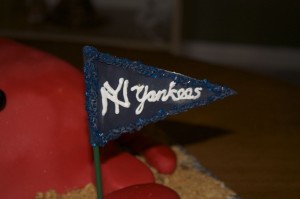 The following day, I printed out the logos of the two teams and used those as a template (ok, I lied, sometimes I use templates) to pipe the team names on the flags. As a die-hard Red Sox fan, a little part of me died piping on that Yankees logo. I was tempted to "mess up", but decided I couldn't let my fan-dom taint my professionalism. Let's just say I grimaced the entire time I was making that flag.
To finish it all off, I stuck the flags in Norman's claws, and gave him a good spray with some shimmery vodka. The vodka cleans off the corn starch and dries quickly and the luster dust gives him a little shine. Voila! Now you have one fine looking crab ready to enjoy America's pastime.