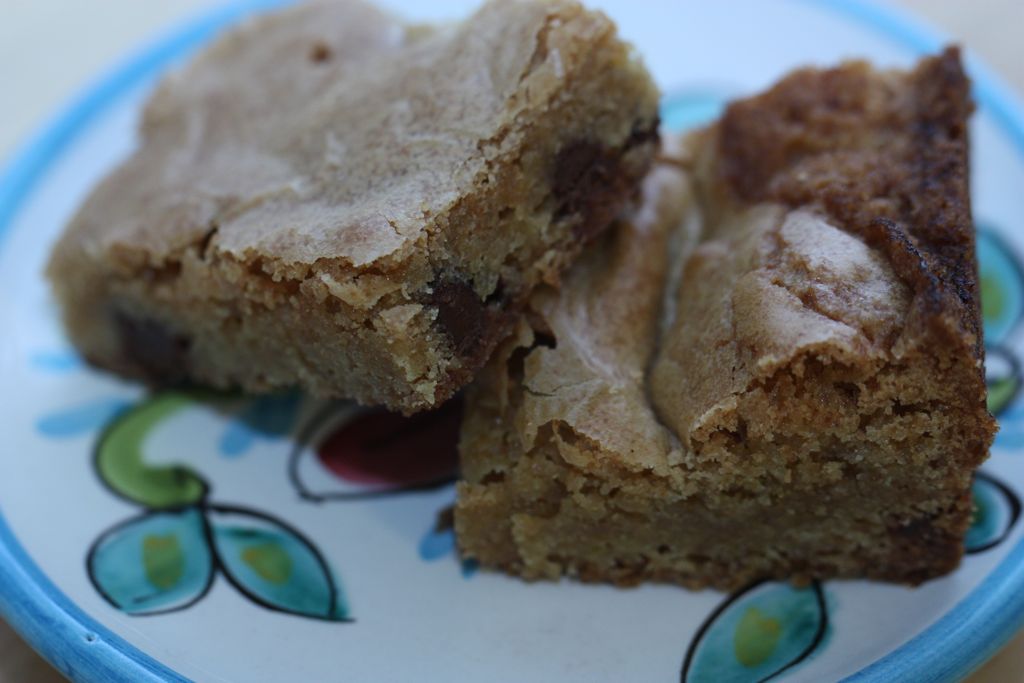 It's the first day of fall! You wouldn't know it by the sweaty, vice grip summer has on us here in Maryland. It's measuring in at healthy 90º today. What the heck?! It's September 23rd – time to put away the shorts and bring on the sweaters.
As I may have mentioned before, I really like the fall. I'm excited for cool air, changing leaves, and an abundance of apples. It is by far my favorite season. I have very idyllic scenes of fall in my head, and while reality rarely matches those scenes (especially since I don't live in a Normal Rockwell painting), the season never fails to bring back memories of growing up in Massachusetts.
These blondies have nothing to do with fall and nothing to do with apples. But they are still pretty good. Also, I only used one bowl to make these, so bonus points for simplicity.
Blondies
adapted from Simply Recipes
1/2 cup butter, melted
1 cup packed brown sugar
1 egg
1 tsp vanilla
1/2 tsp baking powder
1/8 tsp baking soda
pinch of salt
1 cup all-purpose flour
1/2 cup chocolate chips
Whisk together the melted butter and sugar in a bowl.
Add the egg and vanilla.
Finally, stir in the flour, baking soda, baking powder, and salt. When it is all combined, add the chocolate chips.
Pour evenly into a greased 8×8 baking pan.
Bake for 20-25 minutes at 350º.