Oh my goodness.
I survived this past weekend.
It was a whirlwind of activity, excitement, friends, fun, and The Jackster.
That's right, my mom came to town.
Friday started with me attempting to burn my kitchen down while making a carrot cake. It ended with me picking up The Jackster at the airport and making her stand around while I made a bunch of cakes. And cakes were made. Don't worry, I'll show you them in a few.

Saturday was a big day at temple, which was capped off by the Purim Shpiel! I was an assistant director for this year's play and it was so much fun! I met a ton of awesome people, got some pretty catchy songs stuck in my head, and thoroughly enjoyed myself. The theme of this year's shpiel was NPR – Nation Purim Radio, which explains this cake: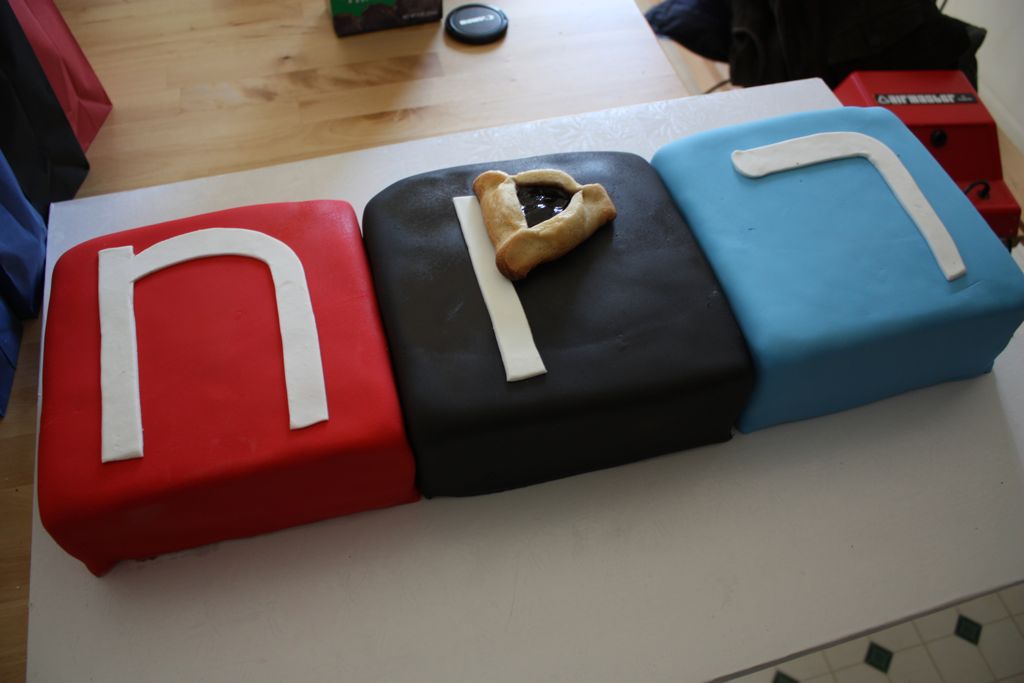 The red block was red velvet with cream cheese frosting, the black block was chocolate with chocolate filling, and the blue block was vanilla with lemon filling. Yes, that is a real hamantaschen. Yes, it was delicious. Yes, I have a recipe for that. It will be posted shortly (albeit way late for the actual holiday. Oops. Although this has been clearly established as a problem of mine.).
I also made this cake:
This is the aforementioned carrot cake that almost burned down my kitchen. My kitchen is still intact and this cake tasted good. So good that I think I'll make it again with the four pounds of carrots currently in my not-burned-down-kitchen.
My buttercream skills need work.
Sunday, I decided to give the Jackster the tour of ALL of the DC metro area (kind of). We started by heading down to Mt. Vernon to hang with G. Dub.
Don't we all look so chummy? This is probably one of my favorite pictures of the Jackster. The only one better might be the one of her playing Guitar Hero. (I have to find that one…)
After Mt. Vernon we headed up to Frederick to see Arthur at Brewer's Alley. It was an excellent way to cap off an excellent weekend. Of course, now it's Tuesday and I'm still pooped.
Pooped, but happy.