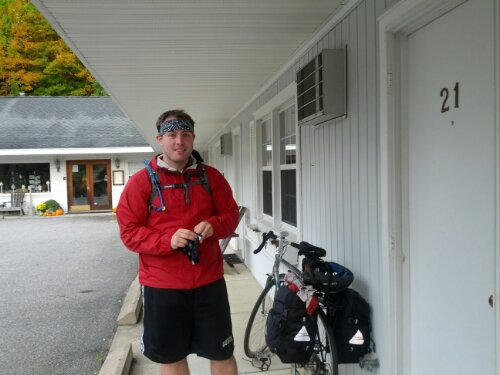 Well, today was certainly an adventure. We got an early start and hit the road on a mission. We started on a bike path which was great, but eventually had to hit the road again. One enormous twisting hill and a finally made it over the worst part!
The remainder of the ride was rolling hills, but not too bad. About twenty miles in, we stopped for a snack and it started to rain. Turned out the rain was a great motivator, because we made it to Poughkeepsie in record time.
(277/366)
We were so excited until Andrew got a flat tire on our way to finding the hotel. We walked a few miles in the rain and ended up stopping at a local Red Cross for a bathroom break and a generous chip of tea.
Soaking wet and cold we finally found our hotel and checked in for the night. We're in the process of deciding what to do for the remainder of the trip since the weather doesn't look great.