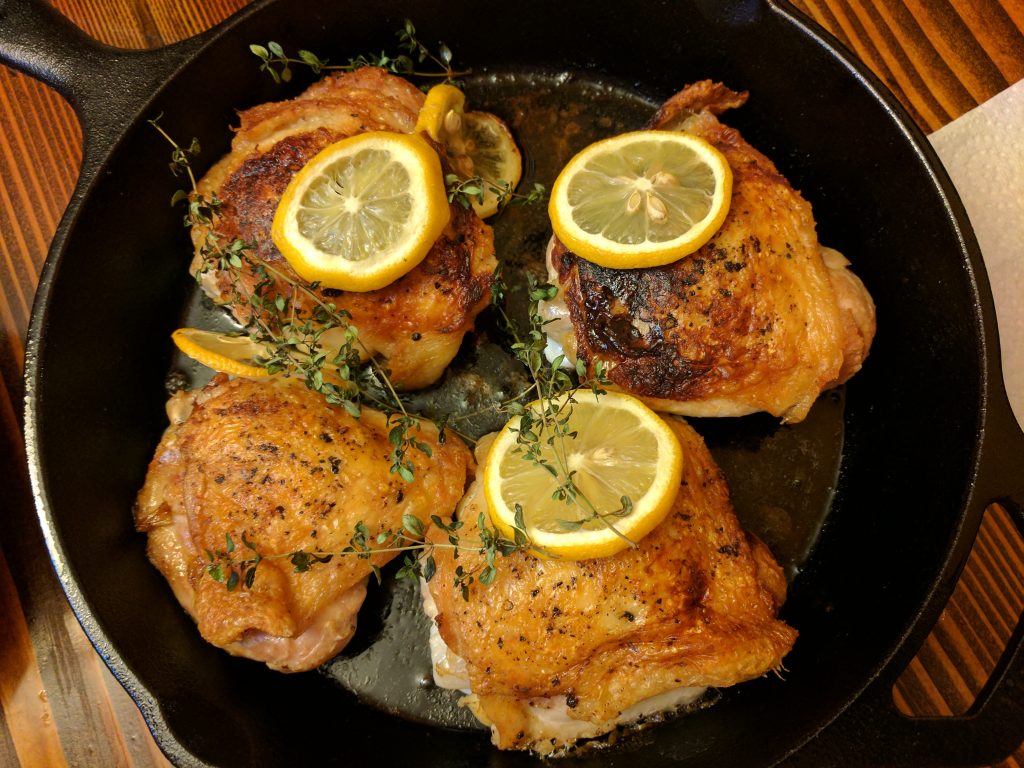 If we're being honest, I don't usually cook that much during the week. I like cooking, but after getting up early, working a full day at the office, and picking up Lulu, I'm not always up for the challenge. The one downside, is that the three of us don't usually get to eat together because Lulu usually starts her dinner before Andrew gets home and then we eat after she goes to bed.
In an effort to at least sometimes have a family meal, I've taken it upon myself to actually make dinner once in a while. And last night's dinner was a home run.
I found this recipe for lemon thyme chicken thighs and it looked so straightforward that I figured it was worth a try. After buying a family-sized pack of chicken thighs for soup at the store the other day (which apparently translated to eight chicken thighs) we had to do something with the extra.
This entire meal took just over thirty minutes to make, with the bulk of the time being hands off. You literally put the chicken in the pan and leave it there. Resist the urge to flip it or check it. I promise it will work. It does require a cast iron pan, so you can go from stovetop to oven and results in those most delightfully flavorful and juicy chicken. The skin is crispy and delicious and it turned out two pieces of chicken each worked out great for us. Lulu also enjoyed it.
I was able to use some freshly picked thyme from Andrew's herb garden which I think was key. The fresh herbs really stood out and shone through with each bite.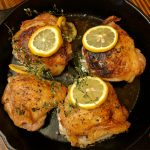 Lemon Thyme Chicken Thighs
2017-05-19 13:30:21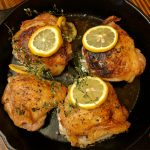 Ingredients
2 lbs bone in chicken thighs (about 4 thighs)
olive oil
kosher salt
pepper
1 medium lemon, sliced thinly
5-6 sprigs of fresh thyme
Instructions
Preheat the oven to 400°.
Drizzle the skin-side of the chicken thighs with olive oil and sprinkle with salt and pepper.
Place the chicken thighs, skin side down into a cold cast iron pan.
Turn on the stove to medium heat and leave the chicken for 14-15 minutes to get the skin nice and crispy. DON'T TOUCH them.
Once the skin is crisp, flip them over, so the crispy side is up. Place lemon slices and sprigs of thyme around the chicken and put the entire pan into the oven. Let cook for 15-16 minutes until the internal temperature reaches 165°.
Serve immediately.
Adapted from The Kitchn
simmiecakes http://www.simmiecakes.com/