I live in Maryland, but a few people I'm pretty fond of live in Virginia. So today we decided to check out their hood (and fill our bellies with amazing food) at the Taste of Arlington.
Turns out Arlington tastes delicious.
I've never been to one of these things before, but it's a pretty sweet deal. You pay a flat rate to get a book of 8 food coupons. Then, there are about 30-40 area restaurants that set up tents where you can trade your food coupons in for a sample of whatever delicious thing they have to offer.
At first we all scoffed at the 8 tickets. We thought, "Eight tickets? That's hardly anything! What a rip-off." Um…apparently 8 tickets is plenty. More than enough. I'm still full. And somehow ended up coming home with 7 huge cookies, another bag of cookies, and a container of grape leaves.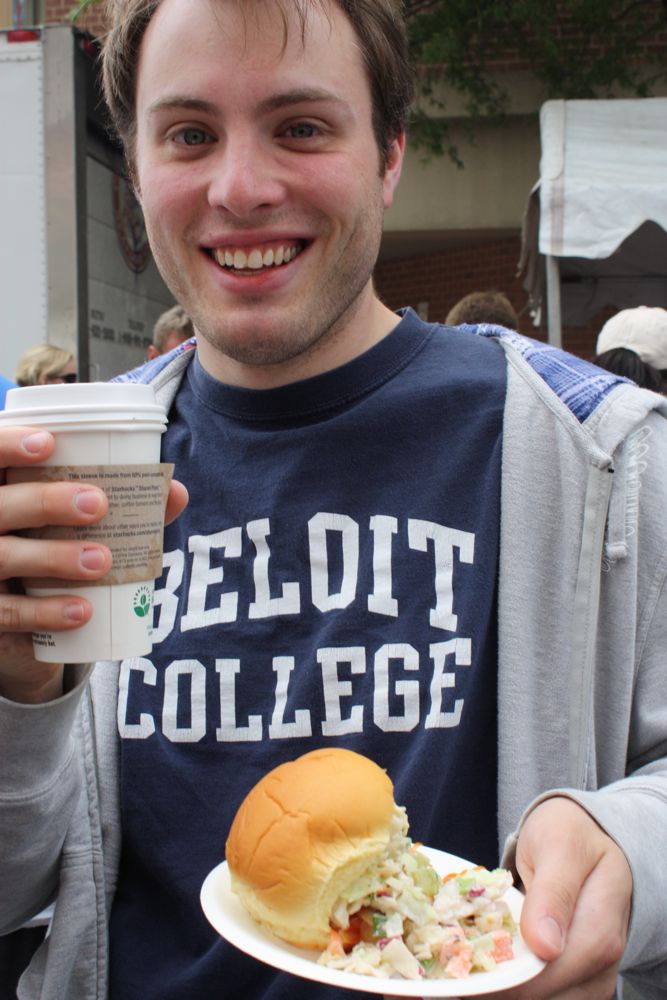 It started off innocently enough. We got in line, got a little sample of pulled pork sandwiches. The pork was good, with some nice tangy BBQ sauce. Then on top of that they put some coleslaw. Now, I'm not a big mayo person, but I thought I'd try the whole shabang to get the full flavor. The coleslaw was pretty mild, but I think I would have liked the sandwich without it. (I'm also pretty sure the coffee totally enhanced the flavor.)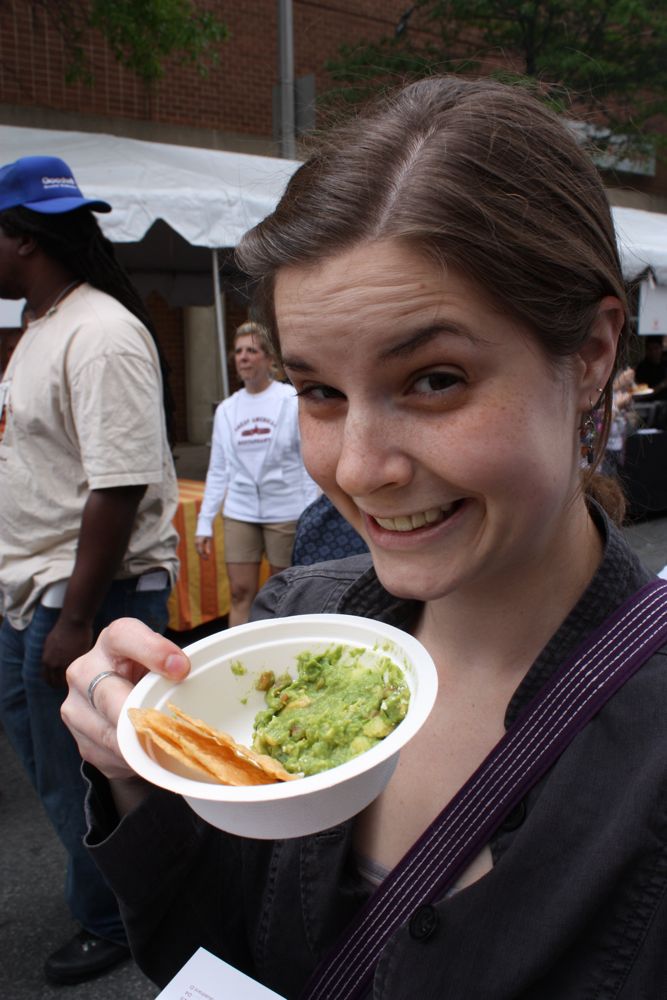 Melissa tried some guacamole. It looked pretty good, nice and fresh. I'd say the chip to guacamole ratio was also very generous. But Melissa is a champ and managed quite well.
As someone originally from New England and who currently lives in Maryland, I'm slightly ashamed that I don't like seafood more. Lobster, crab, mussels, steamers, scallops (pronouced scOllops)…they just never really did it for me. But Andrew got some mussels so I thought I'd give them a try. This might be an accurate reactment of my reaction to mussels:
I like escargot and I thought they might be similar. They were in flavor. They were deliciously garlicky and buttery, but the texture. The texture was…not good. I always describe escargot as buttery gummy bears, but mussels aren't as chewy and are kind of mushy. They sure do look classy though.
They were also grilling some baby octopus for the adventurous sort. I like to think I'm adventurous, but by the time we got there, I was mostly just full. As Jen so delicately put it, "You can see their little heads! And that one just fell off!" Delightful.
Of course then we saw THE BIGGEST PAN EVER. Melissa wants to put it in her and Jen's kitchen. I'd like to seem them fit it in there. I mean, they could fit in the pan. Hmm…the visual is amazing. But this pan was full of paella. And it was good, full of chicken and asparagus and onion and cauliflower. Yum yum!
By then we were getting pretty full so we decided to move onto the dessert foods/foods easily stashable to bring home and eat later. We started off with some slush (or water-ice as some people from New Jersey like to say). You could get strawberry flavor and wedding cake flavored water-ice. Melissa really enjoyed the wedding cake flavor. I thought it tasted like love and commitment.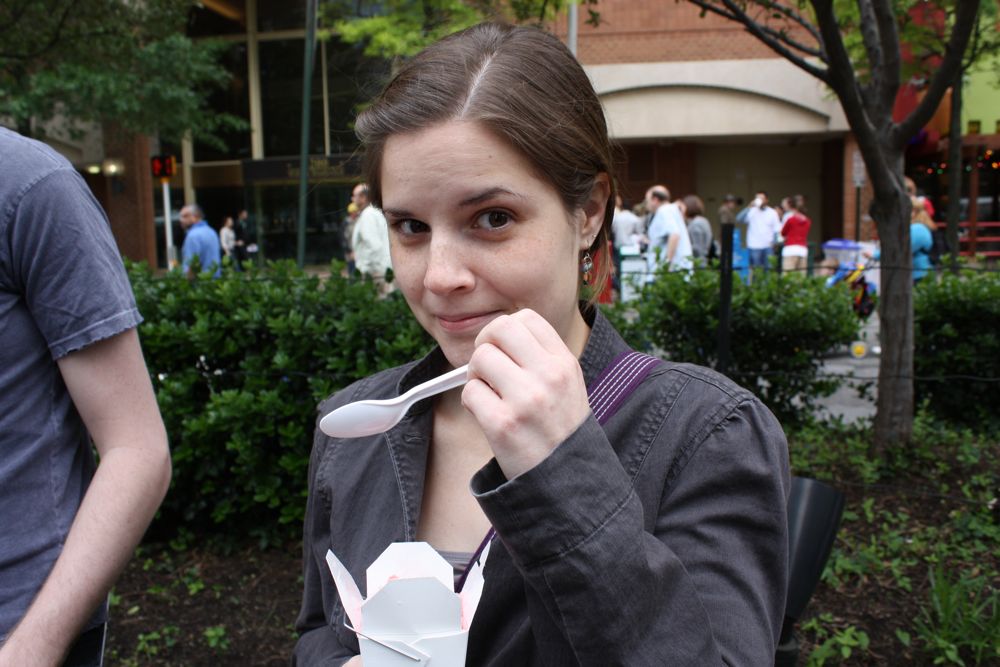 By then we were just trying to get rid of our tickets. I managed to scarf down a mini-cherry pie, a small plate of chocolate fondue, a smoothie, and an ice cream sandwich. (I mean, I'm a baker, I might have a little tiny bit of a sweet tooth.) Then, to go I stopped by the Busboys and Poets and somehow amongst the 7 of us, I ended up with 7 huge, delicous, vegan cookies.
Going left to right, they are peanut butter, neopolitan (which includes nuts, coconut, cinnamon, raisins, oatmeal), and a white chocolate chocolate cookie. And they are all amazing. My favorite is definitely the double chocolate ones, but I'll take any of them (and apparently I have). If you don't hear from me in a few days it's because I ate all 7 of these cookies and have fallen from my extremely rapid sugar high.
Fun afternoon. Now where did I put those cookies…?