The Jackster came to town on Tuesday. And when the Jackster comes to town? Priceless moments.
She came for my graduation from Johns Hopkins. I went to grad school part time for the past few years and figured might as well get to wear the crazy cap and gown (and hood!) and make my friends suffer through a long, boring ceremony. I mean, I didn't do all that homework for nothing.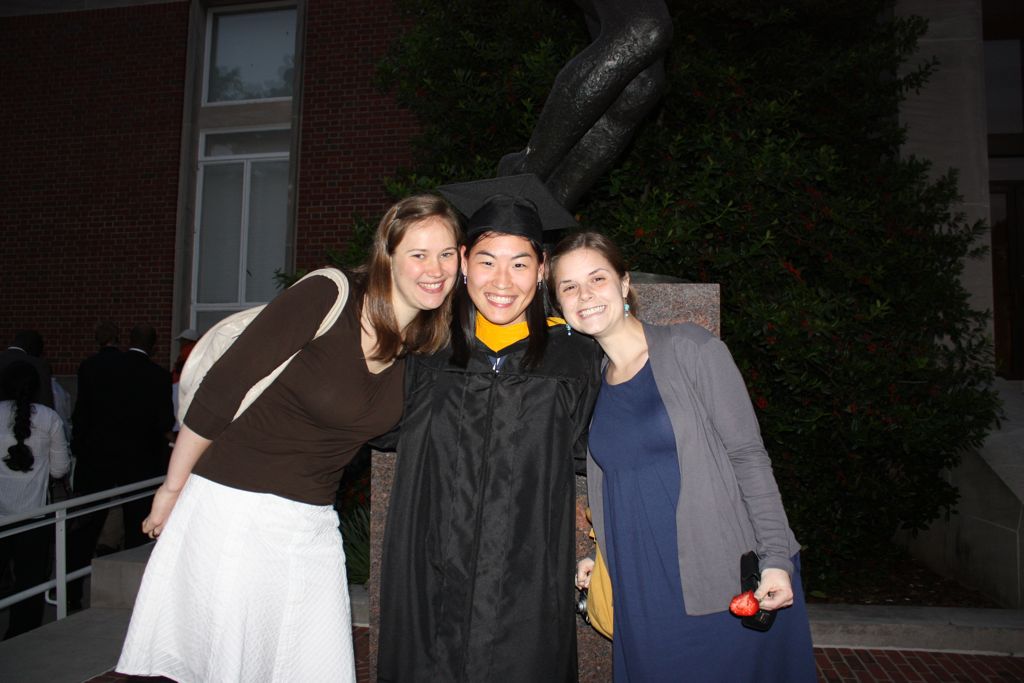 I look kind of crazy in that picture, but can we please focus on the important things? Look at the size of that strawberry in Melissa's hand! And it's half eaten! And Melissa has tiny hands, but they aren't abnormally small. The strawberries were HUGE! Also, please see Jen on the left. Jen is awesome. And apparently has not been getting photo love in the blog, so please note that it wasn't intentional. Jen will be making many more appearances here.
I had to include this picture if only for the look on my mom's face. It's the Jackster. Can we expect anything less?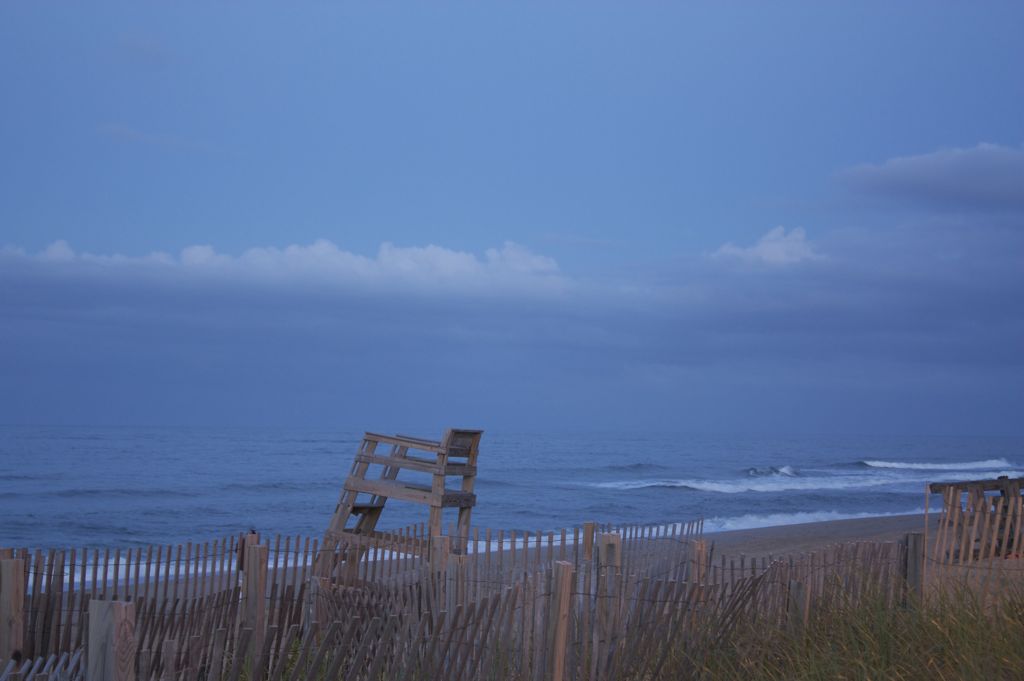 Today I left work early and my mom and I drove down to the Outer Banks in North Carolina. It was quite a ride and I learned a few things:
1. The Jackster has a weird obsession with the GPS unit. Like, she can't figure out to use it, but kept careful watch on the estimated arrival time (and how it changed…"Ooo..you gain a minute! Oh, now you've lost two.") and despite the fact that the GPS talks to you, gave me tenth of a mile updates on how close I was to the next turn ("7.3 miles to go…7.2…" thank you my little calculator). Also, she felt the need to constantly reference the GPS directions with the printed directions, you know, just in case.
2. Having a GPS malfuction while you are on Route 64, looking for Route 646, but being near Route 664 is very confusing. And leads to you possibly getting a little lost.
3. The Jackster picked me over the Great Wall of China. Like back in the day. I'm glad I won out over an inanimate object (even if you can see it from space. But I work in the space industry! So ha! (that is not a very relevant comparison)).
4. Sitting in traffic because of an accident that you never see for 55 minutes and only going 2 miles is sad. But not as sad as sitting in traffic going in the other direction because you are looking at the people sitting in traffic in the other direction. People in the mid-Atlantic have serious driving issues.
5. My mother doesn't know how to use a trackpad on a laptop. Like she didn't know the giant button was like clicking the left button on a mouse.
We ended up getting here a bit late, but we got to explore the beach for a little while before checking out a local restaurant called the Outer Banks Brewing Station. It was the world's faster dinner (for me at least) as we got in and out in like 35 minutes. The food was delicious though. I broke my no shellfish rule and got the Shrimp and Grits.
I had heard shrimp and grits was a really good combination and I was not disappointed. The grits were savory, but not salty, and the shrimp was seared with a light gravy.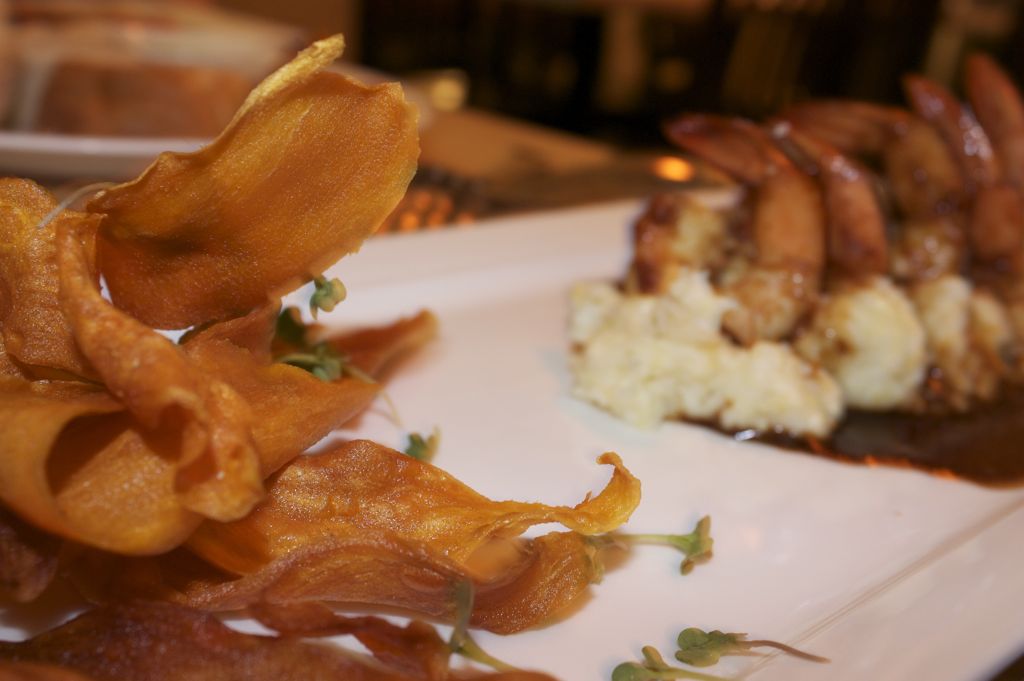 On the side it was served with what I initially thought was a giant pile of bacon. As delicious as that would have been, it turns out those things are actually really thin, sweet potato chips. They were so thin they almost melted in your mouth and I ate the whole pile right up (probably good it wasn't a giant pile of bacon then…).
My mom got the scOllops which I actually liked better than my meal. They were also seared and the sauce was amazing. The pesto sauce was really lemony, but my mom liked the tomato-salsa with the scOllops. I prefered them plain. They were served over corn risotto which I didn't know existed, but shall be added to my list of delicious corn foodstuffs.
Also, because we are VIPs, we got to sit up on a stage and preside over the rest of the diners, with a giant 12 foot screen of the hockey game broadcasting over our head. Mostly, it was just incredibly awkward because it looked like everyone was staring at us as we ate.
After dinner we headed back to our hotel to rest up for tomorrow. We're going to check out some sweet sand dunes and I'm going hang gliding! More pictures and musings tomorrow (presuming I haven't plummeted from the sky.)