The internet seems to be up back and running here, so here's an update on yesterday. You'll probably get another about today but not until later. Gotta take advantage of the sunlight.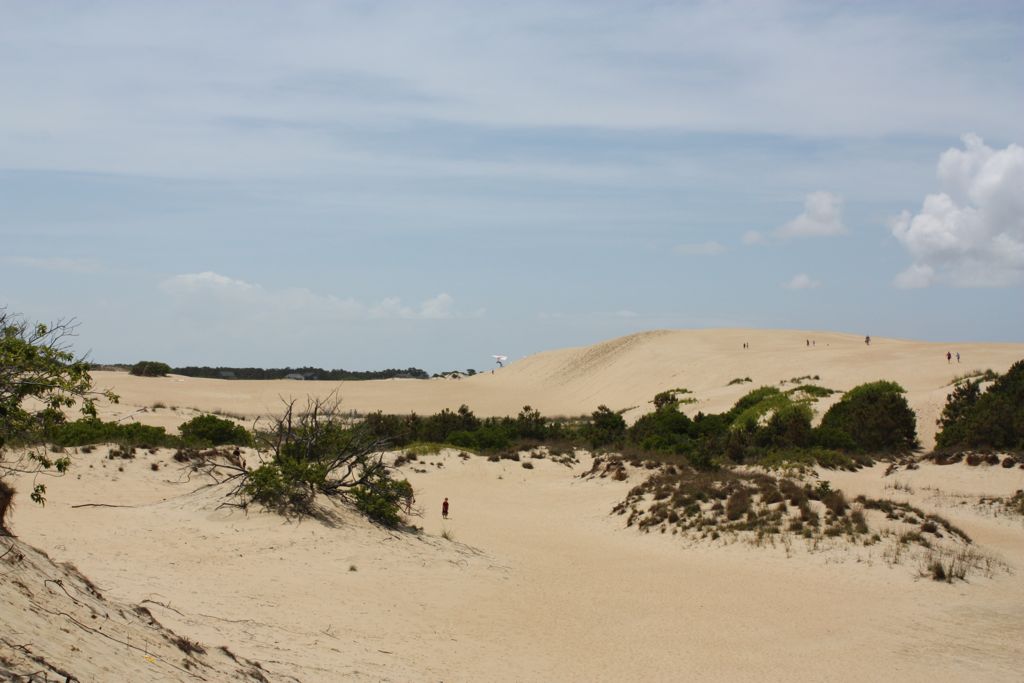 Alright, so yesterday was a big day for us. I thought it was Saturday, so the fact that it was Friday was pretty much the most awesome thing ever. But…just to make it better, I went hang gliding!
We got up super early. Because I'm on vacation and feel the need to get up earlier than when I work. Something doesn't seem right there…The first place we headed to was Jockey's Ridge National Park. At Jockey's Ridge are the largest sand dunes on the east coast and where the Wright brothers did their magic. My lesson was here, and pretty much it was just awesome.
I took the beginner lesson which meant we actually started learning how to fly the hang glider as opposed to doing it tandem (which I totally have to do next!) and having the instructor do it for you. The dunes are 90-100 feet high and you pretty much hold onto the glider and run until your feet aren't touching anything anymore. And then you sail. And it's like floating on air. I mean, I think it is floating on air. The instructors help steer you a bit and make sure you don't fly away, and most importantly…they carry the glider back up the dune for you.
You're only about 10-15 feet in the air, but it doesn't matter because it's an amazing feeling of weightlessness. Plus, it makes it a little nicer when you faceplant into the ground. Turns out I sort of have a knack for hang gliding though (at least that's what they told me), and I'm super pumped to go again. Hm..do they have that in Maryland?
The Jackster did not participate though – she just watched. Sometimes. Except when important. Right after my first two runs I called my mom all excited and was like, "Did you see me go?! I went really high! And the furthest of anyone!" To which my mom responded, "Oh, yeah…I got hot so I went inside." Luckily the people I was flying with took some pictures for me.
After hang gliding, we sort of just hopped in the car and drove south. There's pretty much one road that goes up and down the island so we followed it. But first we grabbed lunch. Since we're on the coast it's all about the seafood here. So my mom got the flounder and I got a BLT (since I'm a bacon kick apparently and need a fish break…don't want to elevate my mercury levels too much, right?). Both were good with huge portions. Also, hushpuppies. What's up with those? More on that later.
Our first stop was at the Cape Hatteras Lighthouse. It's the tallest lighthouse in America and you can climb up it. So I did. It's 268 delightful steps up to a small platform where you can walk around and take lots of lovely pictures. Such as this one:
We then continued our trip south to Ocracoke Island. To get there you have to take a 40 minute ferry ride. We didn't actually know this until we got there and drove onto the ferry. Because we're adventurous trailblazers we didn't even know when the ferry was coming back. Like the wind we are.
You pretty much just drive your car onto the boat and it goes on its merry way. Being in a car that is moving, but the car isn't actually moving is sort of a strange sensation. We got up and walked around a bit and I took a boatload (har har) of pictures.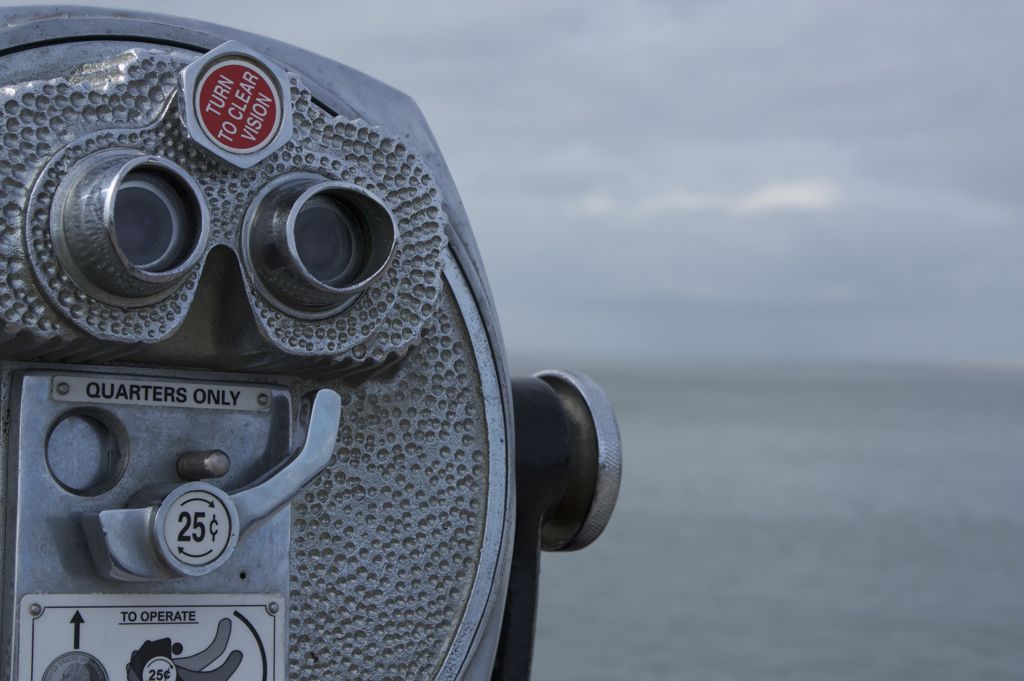 Now, getting to the island of Orcacoke at 5:30 does not leave much time to see anything since everything closes around 6 PM. Which we discovered at about 6:03 PM. But we did get to see the Ocracoke Lighthouse.
After that we decided to head back to scope out some dinner. But I was tired. So I did what I do best: NAP.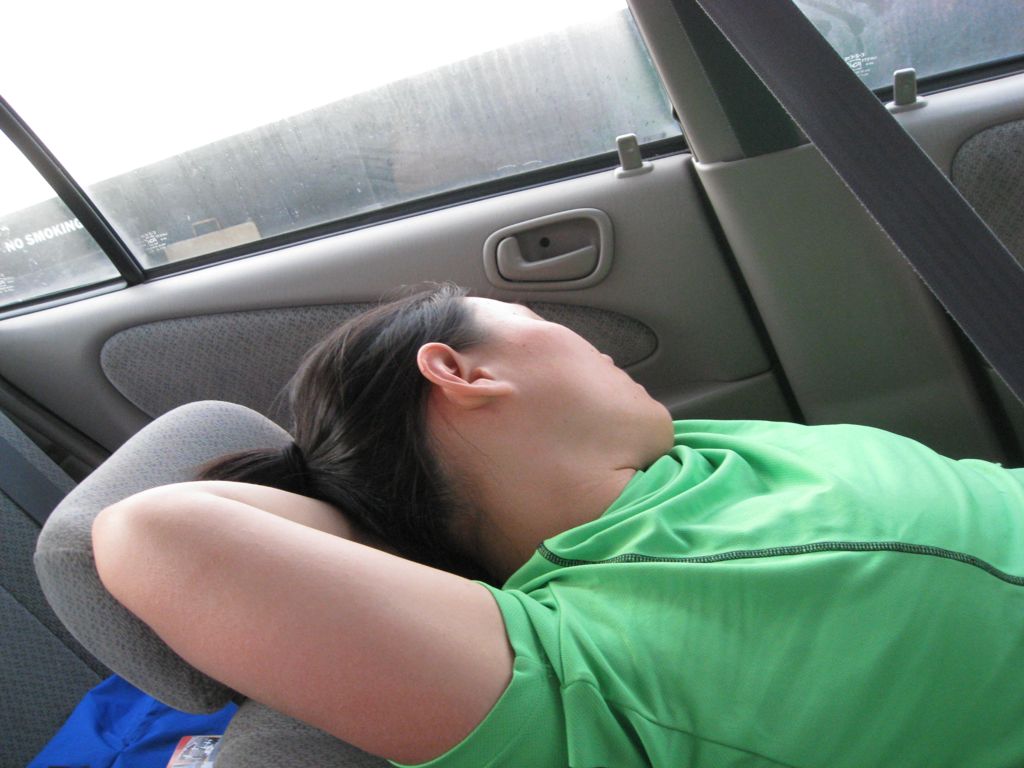 We made a few stops on the way back up though. As you were driving you could occasionally see the waves crashing just over the edge of the road. So we stopped to take some pictures and I found this nice dock.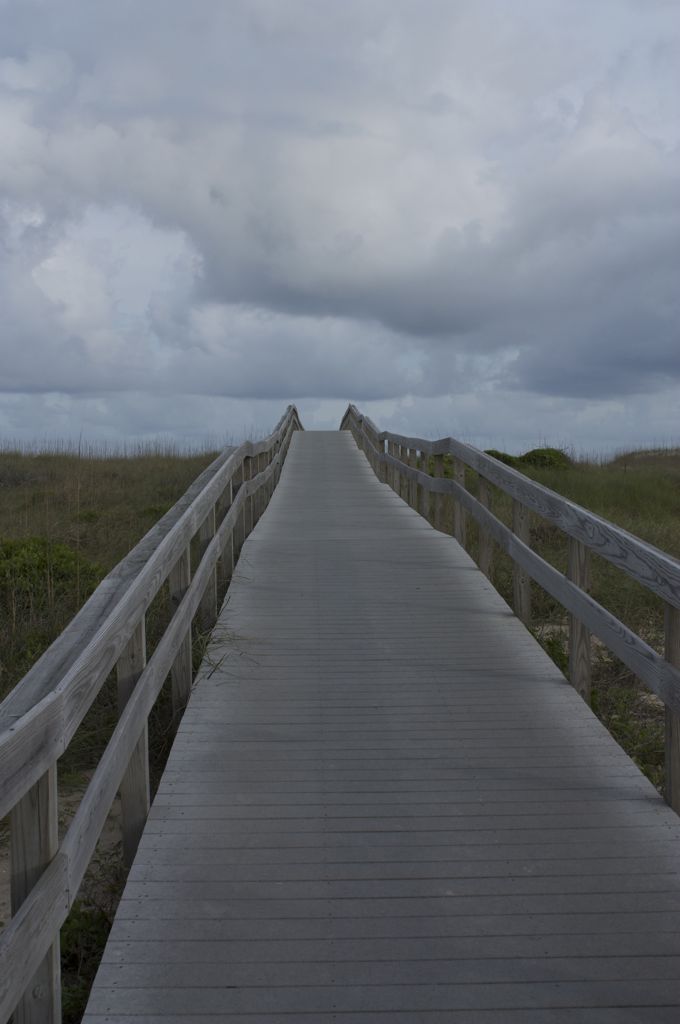 It's a little Dawson's Creek-y eh? Man, I can't believe I just made a Dawson's Creek reference. I've seen like two episodes. The first one and the last one. Thank you Melissa.
Then, because the sun was setting and I'm a sucker for sunsets I made a point to stop in as many random places as possible (like the parking lot of this restaurant) to try to grab a few more pics.
We eventually ended up driving all the back to Kill Devils Hill for some dinner. At about 9:45 we stopped at a restaurant where they told us the wait would be 30 minutes. My mom said she didn't want to wait so we left and to find another place. At about 10:23 we found that place. It's called Awful Arthur's, but it wasn't that awful.
Here are two particularly bad pictures of our dinner. I got clam strips (one of the few foods I eat with ketchup (onion rings being the other)) and my mom got a crab cake. She said the crab cake was really good, with lots and lots of crab. Being from New England I should have known better than to get clam strips. Aside from the fact that there like a million of them, the batter was very thick and heavy – clam to batter ratio: not good.
And the hushpuppies. They are everywhere! And not that good. Hushpuppies are made of some sort of cornmeal dough that is shaped into balls and deep fried. This seems like something I should LOVE. But somehow they just don't do it for me.
By the time we finished up it was nearing 11:30 and my mom decided that we should get up at 5:30 this morning to see the sunrise. I'll put up a post in a little bit telling you how that went.