So where I did leave you? Waking up at 5:30 AM to see the sunrise? And who thought that would be a good idea? Oh right, the Jackster. So, what happened this morning when my alarm went off at 5:30? We groaned, rolled over, and went back to sleep. And what happened when my alarm went off again at 5:35? I groaned, rolled over, and got out of bed. What did the Jackster do? She groaned, rolled over, and went back to sleep. Thanks mom.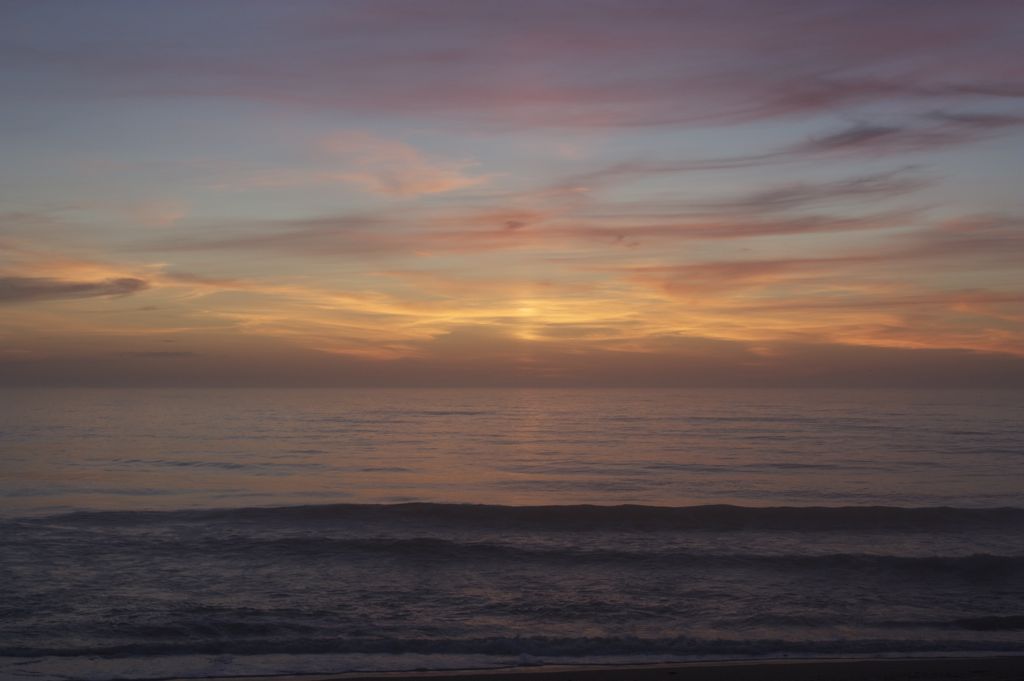 I managed to stumble out there and take a few shots and I'm glad I got up. As I was finishing up, a wedding processional started on the beach near me. It was pretty neat and definitely a beautiful time to get married. You know, except for the it being 5:45 AM part.
We're on a mission to see all of the notable lighthouses on the Outer Banks. We've seen Hattares and Orcacoke already, so this morning we took a brief trip south to the Bodie Island Lighthouse.
I'm sure there are interesting facts about this lighthouse, but I can't remember any of them at this moment.
The main part of the day was spent on Roanoke Island. We started out going to Roanoke Island Festival Park where they have a little living museum of the Roanoke settlement in the 1500s. Apparently some girl named Virginia Dare was born there in 1587 and she was the first English baby to be born in America. And then her whole colony disappeared and no one knows why. It's called the Lost Colony (clever, clever). The museum was interesting, but it has nothing on Plimoth Plantation. Plus, you know, Plimoth survived (woo Pilgrims!), whereas Roanoke? Not so much.
However, my love for history museums and the fact that I'm 24 years old did not stop me from trying on the clothes in the museum much to my mother's delight (seriously, she was way too enthusiastic about this. There are so many more pictures, but they all came out blurry. Let's just say I got to play on the cash register, shoot a duck, and wear a very ugly dress.).
We then went to the Elizabethan Gardens. My mom had been really looking forward to this and I don't think she was disappointed. I'm not much of a botanist (I got that from my mom too…seriously, I killed bamboo.) so I don't really know much about one flower or another, but I really enjoyed walking around and taking lots of pictures. I'm still learning how to use my camera, but I don't think I'm doing too badly.
It was at the Elizabethan Gardens that I saw my second wedding of the day. And all before lunch! Holy matrimony!
We then explored Roanoke Island a bit, met the world's nicest pottery maker, and found the non-commercial parts of the Outer Banks. The small-town charm, the beautiful weather, and the amazing scenery make me realize why people love it here.
Of course, right after our non-commercial small-town experience, we went to Sonic! As in I-live-in-Maryland-or-Massachusett-where-there-are-no-Sonics-so-why-are-they-playing-commercials-for-it Sonic. Yeah, that one. I love Sonic. I first went with Chris when we went snowboarding and he introduced me to the joy that is the Route-44 lemon-berry slushie. Oh gluttony.
We capped the day off with a couple of hours at the beach. And the Jackster discovered her new obsession: Kiteboarding. Seriously, she was so excited about it. There were a ton of kiteboarders out on the water today because it was nice and windy and it was ridiculous. I want to learn that now. My mom was all set for me to take a lesson (oo..the perks of having someone live vicariously through you), but when we looked it up it was just too gosh darn expensive (and there were no available lessons). Anyone know how to kiteboard and what to teach me?
Tomorrow is our last day here and then we're heading back up to Maryland. And then I'll start posting recipes and baked goods again. You know, the food stuff.