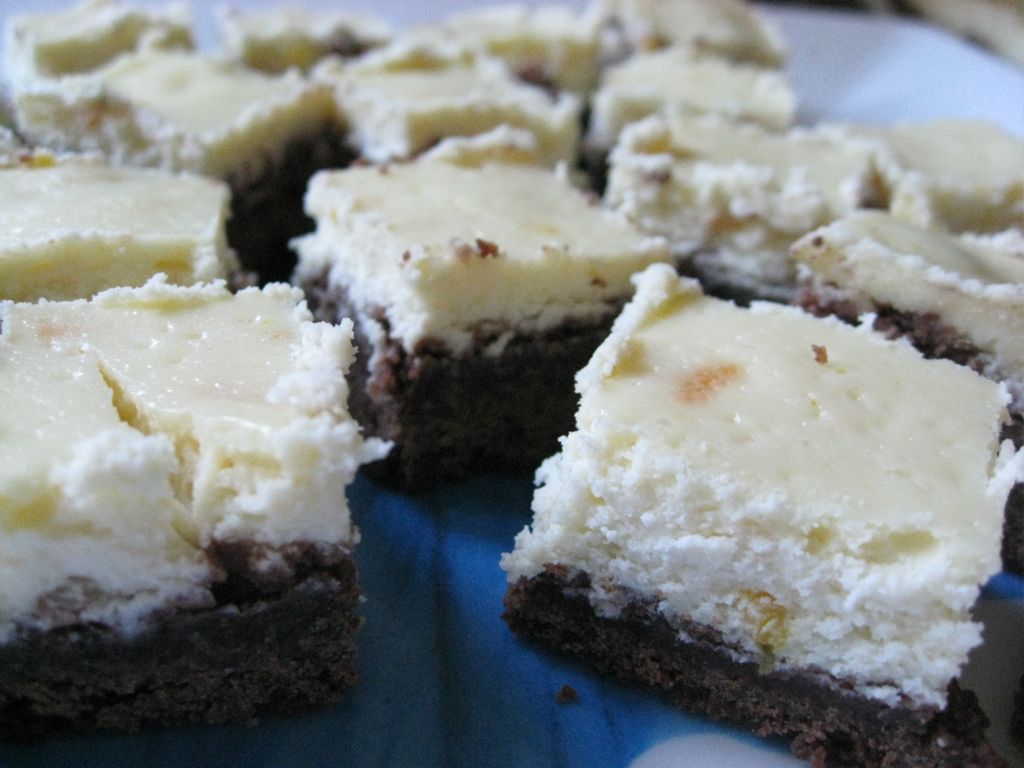 I went home this past weekend. Went to go visit the Jackster and do a little New Year celebrating. It was fun and relaxing. It's always nice to go back home and see the family and friends. My mother still belongs to the temple I went to as a child so whenever I'm home I run into my teachers from when I was five. I tend to hear, "Oh, you're all grown up!" a lot.
Home also means big meals and delicious foods. We always go to the Millers' and there's a strict rule that there must be a least one dessert per person. There have been over 20 people at some Thanksgiving dinners and we've never fallen short.
I did my part with these deliciously decadent cheesecake brownies.
(Sorry about the pictures, I didn't have my nice camera with me and per usual I was baking at 10 o'clock at night.)
Cheesecake Brownies
adapted from the Taste of Home Fall Baking Cookbook
For the Brownie
1 cup flour
1/2 cup sugar
3 Tbsp cocoa
1 tsp baking powder
1/4 tsp salt
1/2 cup cold butter
1 egg yolk
1 tsp vanilla extract
For the Filling
8 oz cream cheese, softened
1/3 cup sugar
1/2 cup sour cream
1 Tbsp flour
2 tsp grated orange peel
1/4 tsp salt
1 egg
1 egg white
1/2 tsp vanilla extract
Line a 9″ square pan with aluminum foil. Grease the foil. Normally stuff like this I pshaw at, but it totally makes your life way easier, so go with the flow here.
In a large bowl, combine the flour, sugar, cocoa, baking powder, and salt. Cut in the butter until the whole mixture looks like crumbs. Fine crumbs.
Finally, stir in the egg yolk and vanilla.
Take that mixture and press it into the bottom of the foiled pan. It's still a bit crumbly, but it'll come together in the oven. Bake at 325º for 15 minutes.
In the meantime, make the filling. In a small bowl, beat the cream cheese and sugar until smooth. Then add in the sour cream, flour, orange peel and salt until just mixed in. Finally add the egg, egg yolk, and vanilla until just combined.
Pour this mixture over the warm crust and stick it back in the oven for 20-25 minutes until the filling is set.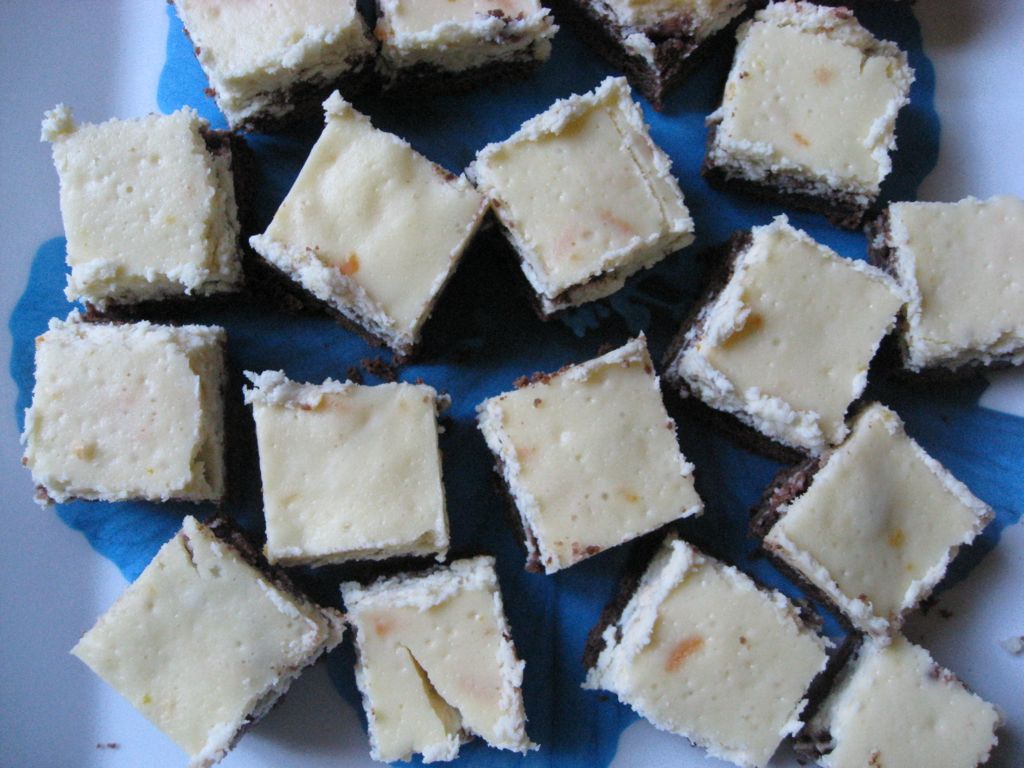 Cool for about an hour and refrigerate overnight. Then remove from the pan. It's super easy, because you can just pull out the aluminum foil.
Cut into 1″ squares. Yum!