Ok, I know. No posts for a few weeks and then I follow up a roasted vegetable post with another vegetable post? What am I thinking? Well, probably not much. Except these vegetables are FRIED. That's right, dipped in batter and thrown into a piping hot pan of oil. Yum!
I'm not sure what made me want to make tempura. It's not like I've been lacking in hearty meals lately. Last week I had two Thanksgiving dinners, a big pot roast meal, got a pie for running a 5K (speaking of which…anyone want a Tabletop apple pie? Talk to The Jackster), and got up at like 2:30 AM to go shopping on Friday (ok, that last one isn't about what I ate, (although I did have a steaming cup of hot chocolate while in line) but I felt the need to share) and then ate at Denny's. I'm pretty sure when I flew back to MD on Sunday, I hadn't actually been hungry since the previous Wednesday.
But anyways…tempura. It's delicious. It's delectable. It's probably something else that starts with the letter "d" but at this moment I am failing to come up with anything.
The presentation is impressive, but the secret is out:
Tempura is surprisingly simple to make.
And you can make it in a jiffy. Just pick your favorite variety of vegetables (or just one vegetable, maybe tackle an entire pound of potatoes or something, it's all good) or some seafood (I think shrimp is pretty popular) and 20 minutes later you've got a delightful (oh hey! Another "d" word!) dish! The batter is light and crispy and it just feels decadent (again! I can't help myself) eating tempura.
Tempura
adapted from Disney's Family Cookbook
6 to 8 cups of mixed vegetables (zucchini, sweet potato, peppers, carrots, onions, broccoli…whatever floats your boat)
1 cup flour
1/2 cup cornstarch
3 tsp baking powder
1 tsp salt
1 egg white
1 cup water
Vegetable oil for frying
Take your lovely selection of vegetables and slice them up in a-few-bites-sized pieces. I sliced the sweet potatoes into 1/4″ thick slices, cut up some carrot sticks and zucchini sticks, and some broccoli florets. And for Andrew, I threw in a couple of shrimp for good measure.
So after you've got your veggies prepped and ready to go, it's time to make the batter. To make the batter, start by measuring the flour, corn starch, salt, and baking powder into a bowl.
In a separate bowl, whisk the egg white and the water together. Then mix the wet mixture into the dry ingredients and stir until just combined. The batter will be lumpy, but that's ok.
In a wok, frying pan, or deep fryer (if you just happen to have a deep fryer lying around) heat at least an inch of oil (or more…you know, if you have a deep fryer) over medium heat. Once the oil is hot, dip the vegetables or shrimp into the batter. Just a light coating of batter will do. Then, gently place in the oil so as to not splatter, and fry until golden brown (4 to 5 minutes).
Try not to cram too many pieces into the pan so that they crowd each other and stick. After they are browned, remove from the oil and place on some paper towels to help drain the oil.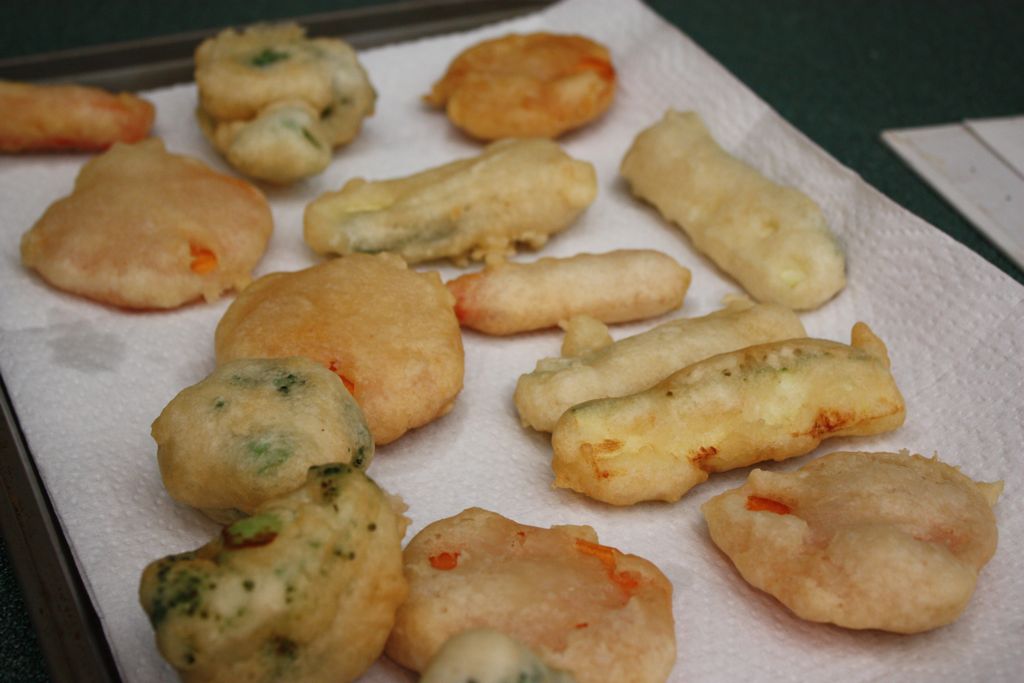 Serve with some dipping sauce. I made a sauce by combining soy sauce, a 1/2 tsp of sugar, and a few red pepper flakes.