Ok, I'm on the world's slowest internet connection, so we'll see how this goes.
I'm in Munich! I slept in kind of late today which wasn't the greatest idea. Turns out since it's the off season, pretty much everything closes early here. So with a late start, there was a lot to cram in today.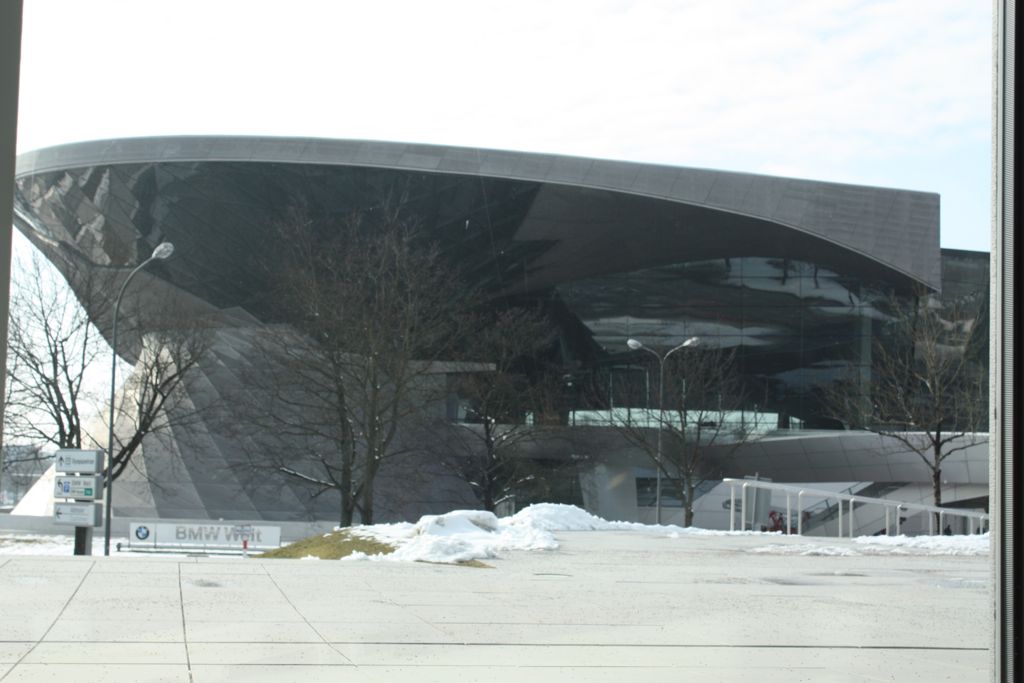 The first thing I did was head up the Olympic Park and the BMW factory. I took the U-bahn up there and apparently managed to figure out how to get the correct ticket because when the guy came around to check it, he didn't kick me off the train.
The Munich BMW location is basically made up of three buildings: BMW Welt, the BMW Museum, and the factory. I walked into the BMW Welt building just to see what was up and figured I'd take a tour or something. I really wanted to take a factory tour but when I checked online it said all the tours were sold out. Ha! Liars! When I walked up to the guy to ask him what was up, he told me that an English tour of the factory was starting in about 15 minutes. Score! (The picture up there is the factory.)
The BMW factory tour was AWESOME. I totally engin-nerded out. They started with the raw material, showed us how the pressed out the sheet metal parts, assembled, and welded them together. Then the welded assemblies go through this ridiculous painting process before being sorted for the rest of the assembly. It only takes 20 hours to go from the main bodies to a full car so there's a lot of logistics into making sure there aren't any problems.
Also, we Americans have all sorts of special requirements for our cars that other countries don't have, including metal fuel tubes (how the gas gets from the gas station into the tank) and reflectors on our lights. It was pretty interesting. Also, when we order a BMW, we don't mess around. Apparently the majority of BMWs made at this factory are fully pimped out with leather, sunroof, and GPS for the American cars.
Anyways, I've never wanted a BMW, but after going through this tour I'm all set to go and custom design my next car so I can go through the factory tour again and pick it up here in Munich. Anyone have $40,000 they want to give me? I'll even take the one in the picture above. It's so cute!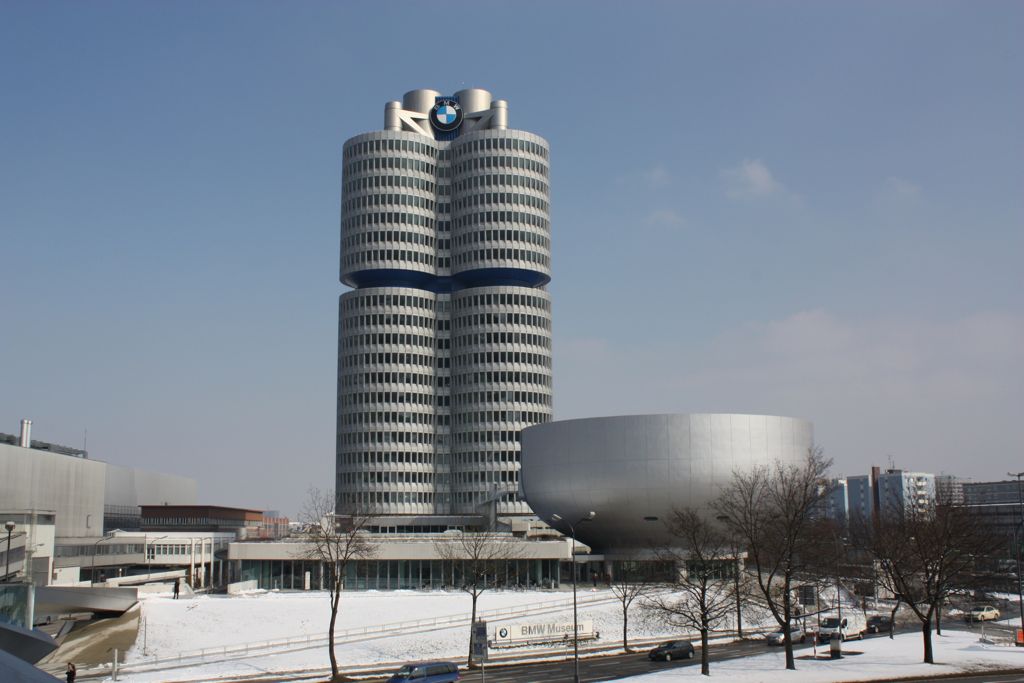 After the tour I played around in the BMW Welt. It's basically this ridiculous showroom for all their cars with interactive exhibits on the technology. They focused a lot on hybrid technology and had some pretty interesting activities to teach you about it. After that I headed over to the BMW Museum (above) which is basically the history of BMW. Boy, that is a sleek museum. The way the museum is set up is super modern and definitely reflects the BMW image. Many of the exhibits have projection computers that allow you tap on a flat table and bring up new screens and other exhibits have proximity sensors that start talking if you are standing in the right place. It was all just so cool.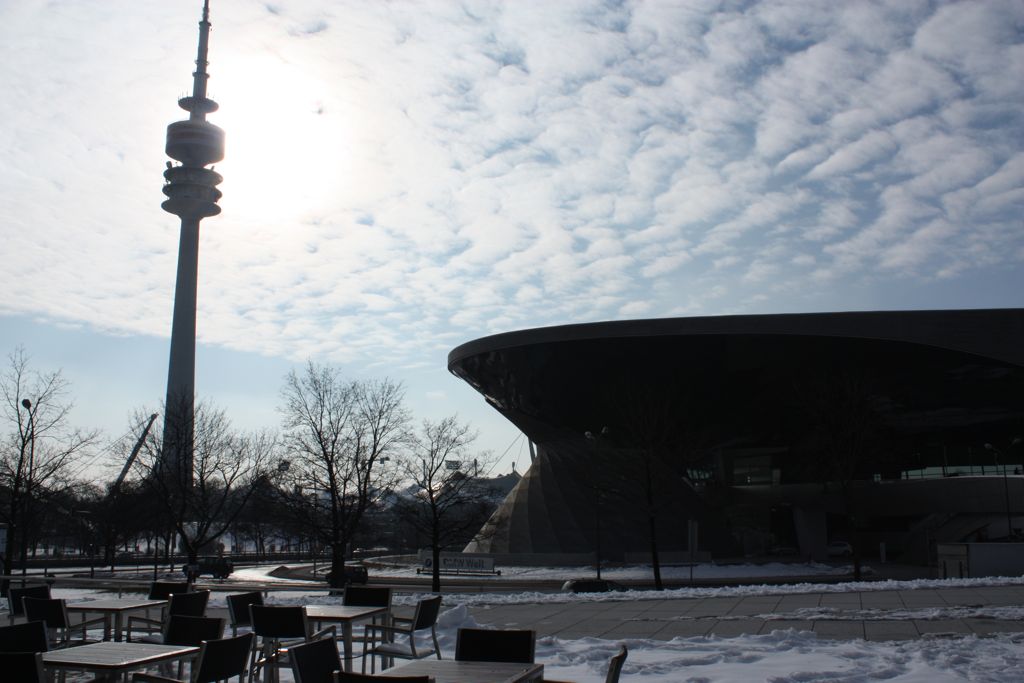 I spent sort of an exorbitant amount of time there so I was scrambling later on to fit stuff in. I walked around the Olympic Park a little, but it's not all that exciting. Most of the arenas are still used today. Since the Olympics in Munich were in 1972 before they separated the Winter and Summer Games, the Olympic Park has ice skating rinks, swimming pools, soccer arenas, and other sports fields.
As it was getting late I headed downtown to Marianplatz which is the center of town. I popped up from the U-bahn just in time to see the glockenspiel play at the top of the hour. Just like in Prague, the crowds gather to see the show, but this time it was kind of worth the non-existent money. The clock begins to chime at the top of the hour and the display doesn't finish until almost 10 past the hour. Characters parade, guys dance, and two horses joust with a definitely victor.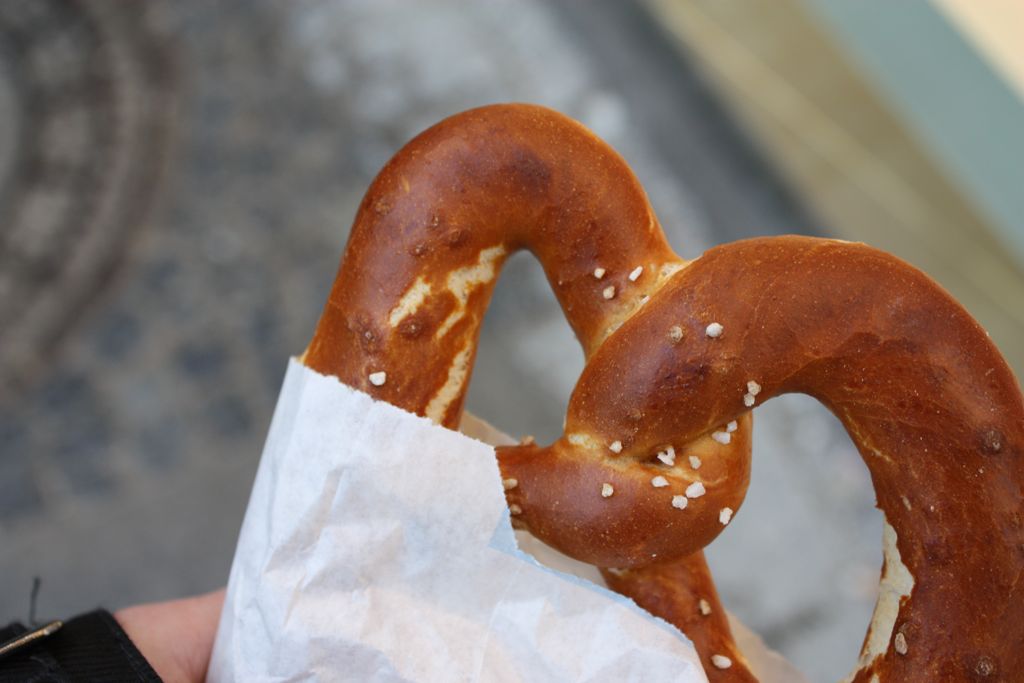 I then proceeded to wander around the center of Munich basically just getting lost. I did manage to stumble upon the Viktualienmarkt, which is basically a big outdoor market where you can get fresh meat, vegetables, and flowers. Makes me wish I had a stove. But I did get to eat a pretzel.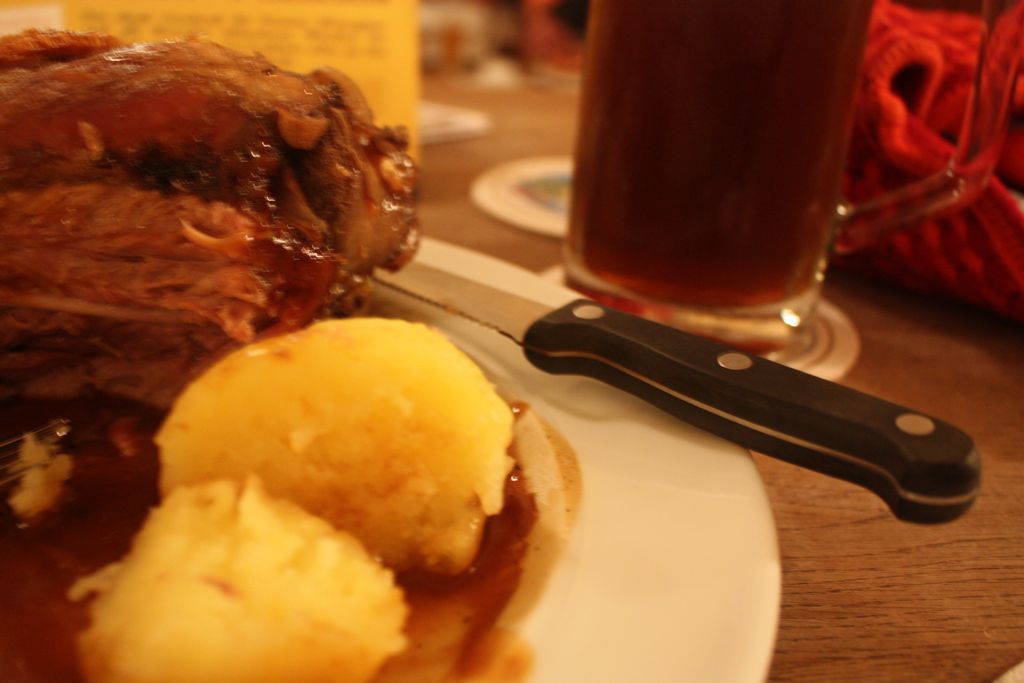 It was getting pretty late so I decided to get some dinner.  When in Munich, it seems as though you have to go to the Haufbräuhaus. The Haufbräuhaus is huge hall with many many tables where you can get giant mugs of beer and traditional German food. Dinner is probably the only time when I'm traveling alone that I get really lonely. Especially in a beer hall with groups of raucous people talking and enjoying themselves. I got quite a few looks from the Germans at the table next to me who probably thought I was crazy sitting there by myself not drinking beer (I totally got teased for drinking soda) and eating a leg of meat as big as my head.
Since everything closes early (I got kicked out of a coffee shop at 9:30), I'm thinking about an early to bed so I can at least be efficient with my time tomorrow. I'm now sitting here eating this donut thing and drinking Fanta. I'm working on the 18 hour eating diet. Soon it's time for bed! Night!