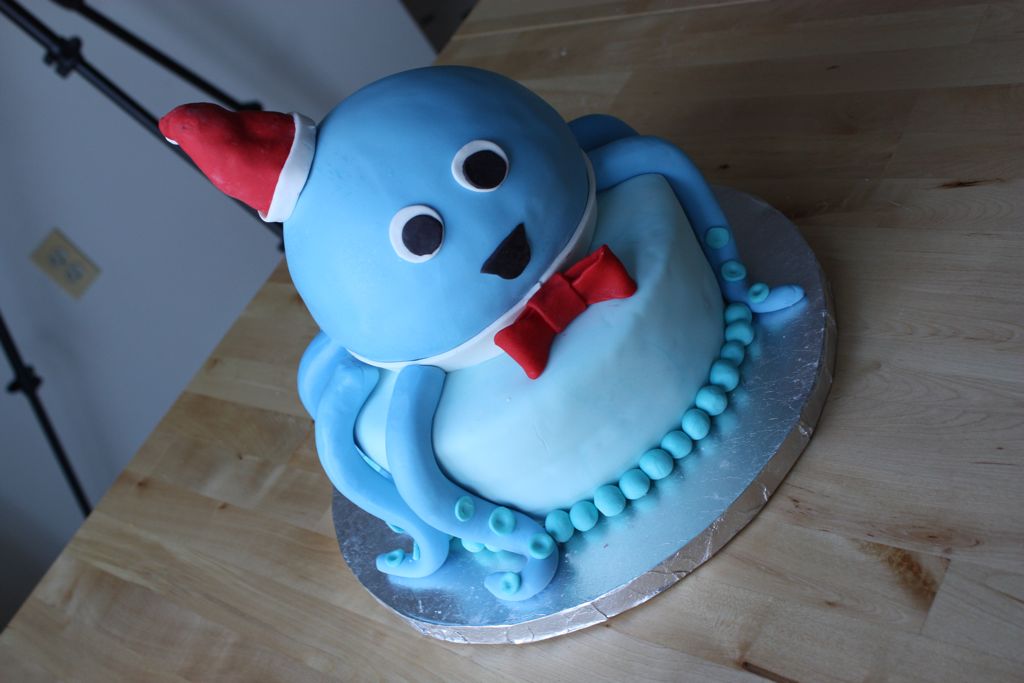 I was recently asked how to make Ollie the Octopus. Actually, it wasn't that recently, I just fell off the face of the earth for a little while. I hope it's not too late!

Ollie actually isn't too hard to make. The secret is having the right pan. I rarely use shaped pans, but my exception is that I bought the Wilton Ball Pan and it in fact has come in quite handy. Basically you just bake up each half of the ball pan, throw a little icing in between, slap them together, and give it a nice once over with the frosting.I also cut a little off the bottom to create a flat surface for the cake to sit on.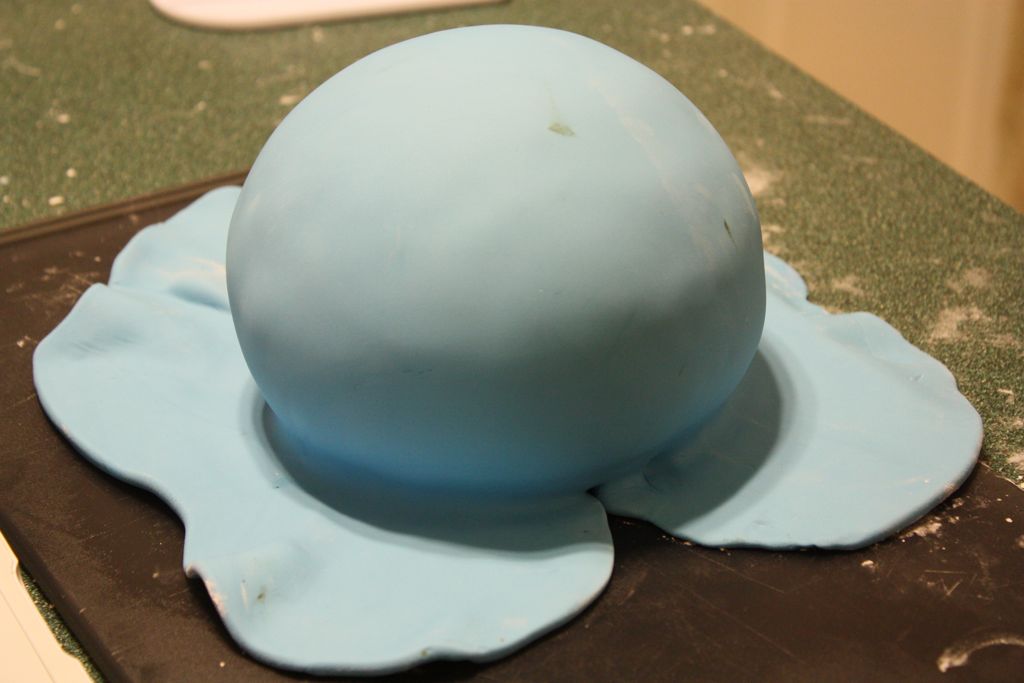 I then used a light blue, slightly marbled fondant to cover the ball. My fondant is marbled partially because it looks cool and partially because I got tired of kneading in color. And just in case you were wondering, the ball part becomes the head.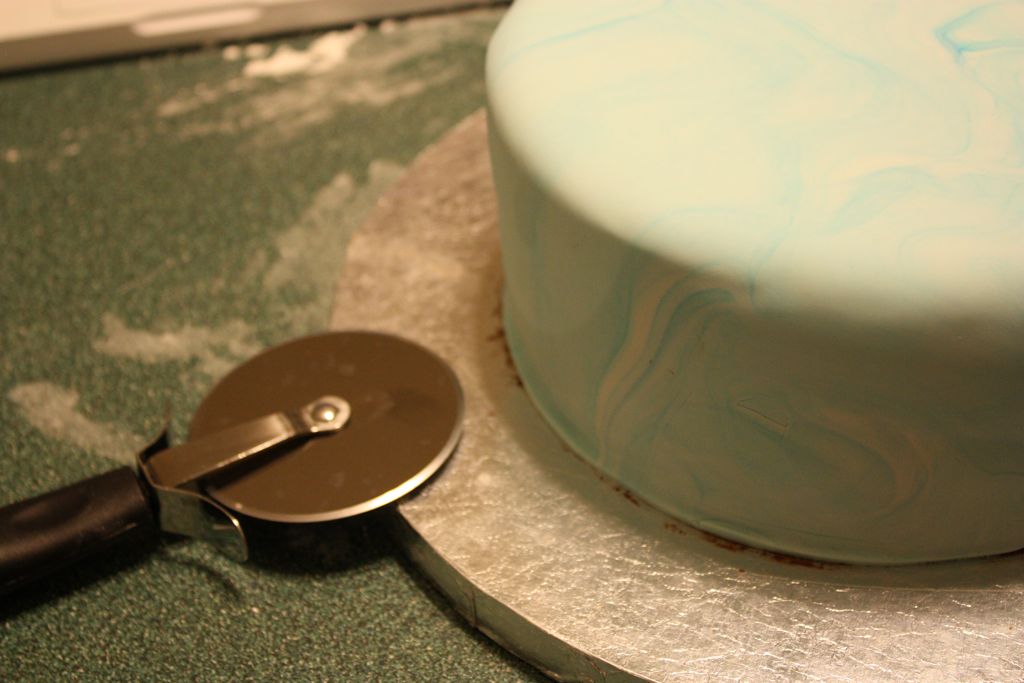 The base of the cake is what Ollie sits on. For this particular cake, it's just a round, two layer, 9″ diameter cake. It's frosted the same way as the ball.
Then, it's just a matter of putting the two cakes together. I use plastic straws to support the ball cake so it doesn't sink into the round cake. A wooden dowel just ensures it all stays together. And this is when I stopped taking pictures of every step…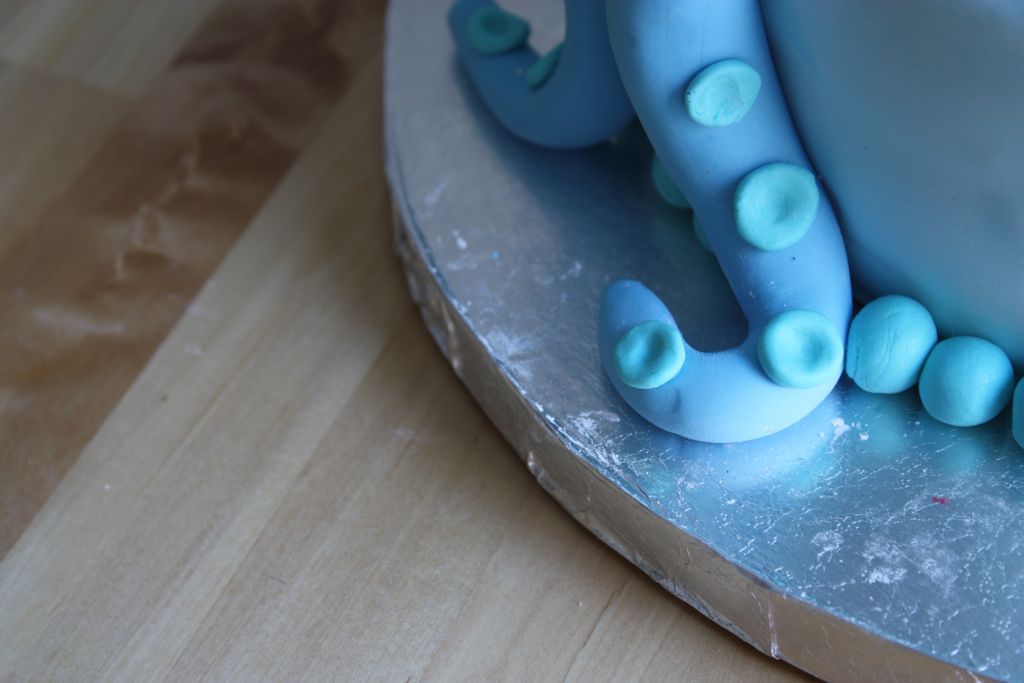 The eight legs of the octopus are just large pieces of fondant, rolled to a tapered end and stuck to the cake using water. The little suction cups are just small pieces of different colored fondant rolled into discs with an imprint in the center made using a dowel.
Since Ollie was going to Christmas dinner, I figured I should dress him up a bit. He got a fondant bow tie and a little Santa hat. His eyes and mouth are also just made of rolled fondant.
And that's it! Ollie is cute and festive and enjoying the holiday seasons. He's actually not all that complicated to make. Hope this helps!