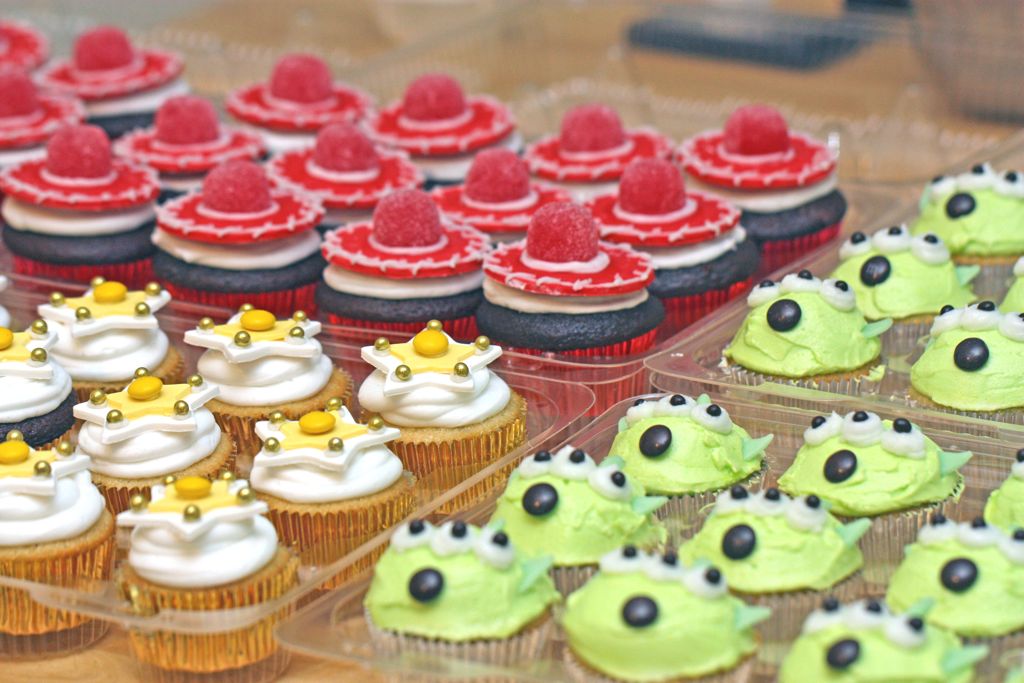 So I just found out that Toy Story came out in 1995. 1995! That was 16 years ago. I was 10. What the heck? I remember when it first came out. And now I feel old. However, the Toy Story franchise continues with Toy Story 3 coming out last year. Did you see it? Did you cry?
These cupcakes were made for my friend Liz's kids' birthdays. Aly and Jackson are two of the cutest kids I've ever met and this past weekend they had a Toy Story themed birthday party.
Look at those faces…and look at that cookie cutting action, I think I have my first employees for my future bakery! Unfortunately I was unable to make it to the birthday party, but I heard it was a great day and a ton of fun.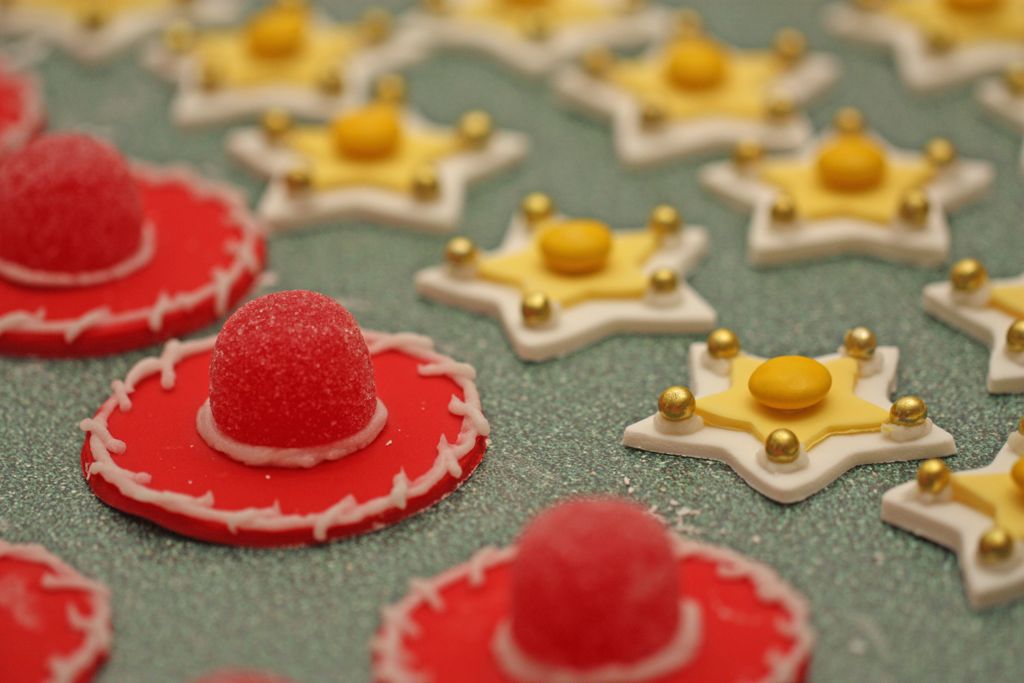 The Jessie cowgirl hats are just made by cutting out circles of red fondant and topping them with a red gumdrop. I went through multiple versions of this hat. I started off using red Dots, but they turned out to be too small. I then tried making the circles smaller, but then it looked to crowded. So in the end, I ended up sending Betsy to the store at 10:30 at night to get as many red gumdrops as she could find from our friendly neighborhood Target. Which meant we ended up with three bins of gumdrops, minus the red ones.
The sheriff badges were made by cutting out two different sized stars from white and yellow fondant. They were then stuck together with a little water and embellished with some gold dragees and yellow M&Ms. While Betsy was at Target I had her buy a boatload of M&Ms so we wouldn't run out of yellow ones. Which means we now have approximately three pounds of M&Ms, minus 28 yellow ones.
Who wants some candy?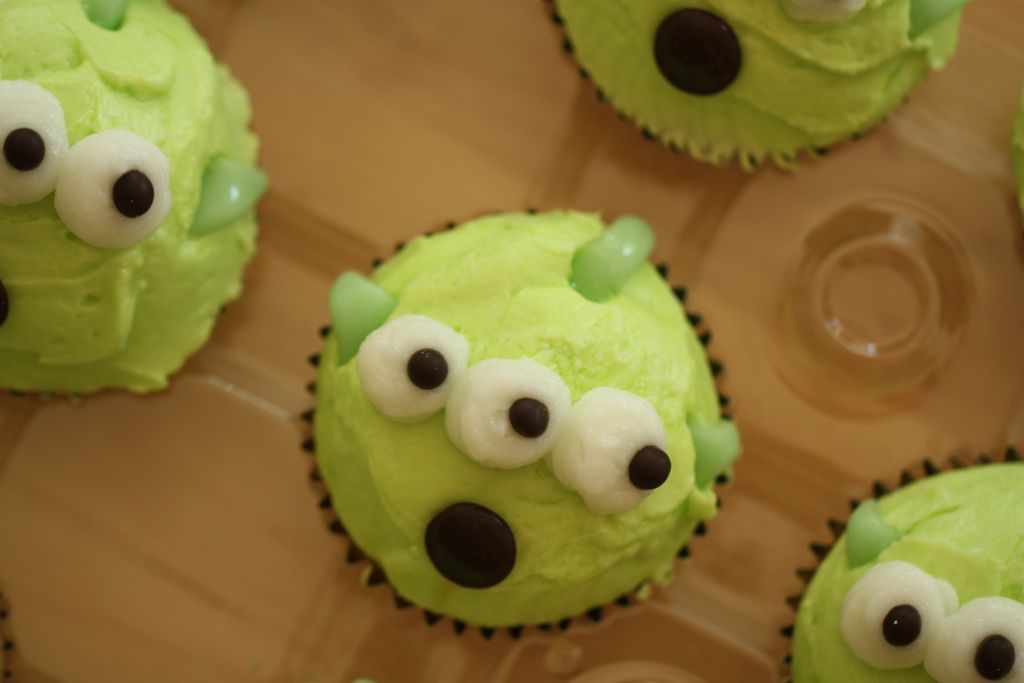 Finally, the aliens were made by icing cupcakes with a generous dollop of greenish-yellow buttercream icing. The eyes are white buttercream with some chocolate dragees my friend Elise gave me a while ago. The mouths are brown M&Ms. Oh, excuse me, my three pounds of M&Ms are also missing 24 brown ones. The ears and antennae are made by rolling out and cutting up Airheads.
Again, who wants some candy?
Note: if you are making cupcakes ahead of time, storing them in an airtight container (such as the plastic ones in the picture) means there is a good chance your fondant decorations (or Airheads, who knew?) might end up a little droopy. Airflow is necessary to keep things looking firm, so I left the lids of the badges and hats overnight.
Oh yeah, and why did I miss Aly and Jackson's birthday party? I was busy doing this: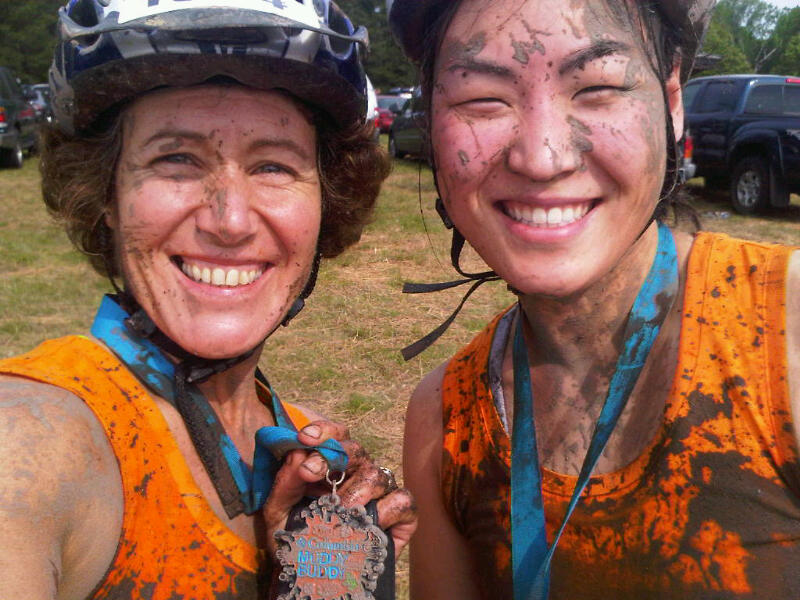 I was totally rocking the Muddy Buddy run down in Richmond.