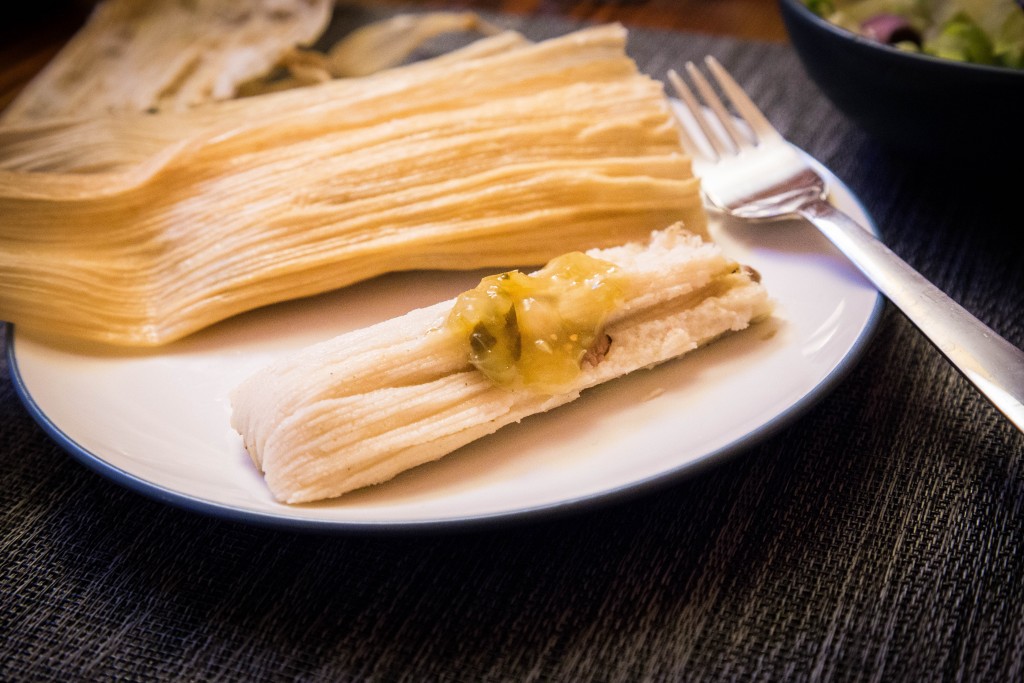 Andrew loves tamales. I'd never really eaten them until he bought some at a local store on the way up to Lake Tahoe one summer. Ever since then, whenever we talk about tamales, he always tells me how much he loves them but how hard they are to make. So after hearing this again and again, I finally thought, "Challenge accepted!".
After doing some research, I finally settled on the recipe from Serious Eats for green chili and pork tamales. It looked to be a little time consuming, but I figured I could break it up over two days and it wouldn't be that bad. I was right.
Saturday evening, I started by making the pork. I used the shortcut suggestion and simmered chunks of pork shoulder in green chili sauce. When it was cooked, I shredded it up and set it aside. Meanwhile, I made the green sauce from poblano peppers, jalapeños, and tomatillos. Roasting the peppers on the stove top was very satisfying. Gas stoves for the win! It was only then that I started on the masa dough. The masa dough is pretty straightforward to make, but rests in the fridge for an hour, so I should have made it first. Oh well.
Just a note, I followed the recipe for both the masa dough, sauce, and filling and ended up with about 1/3 too much filling, and three times as much sauce as I needed. Maybe my tamales were really big or something, but I found the proportions to be a bit off.
I assembled the tamales and put them in a baking dish covered with plastic wrap and aluminum foil in the fridge overnight. I read the time lets the flavors meld together better, but in all honesty, it was late and I was getting tired.
Sunday afternoon I steamed the tamales in Andrew's big lobster pot. I was able to fit about 20 of them in at once. It took about an hour to steam all of them and they ready just in time for Jen, Evan, and Owen to get here for dinner.
The consensus was that the tamales were a hit. Owen agreed as he downed basically an entire tamale himself. I'm not sure what is a socially acceptable number of tamales to eat, but I think I had about four. Add tamales to the list of long-and-somewhat-tedious-to-make foods that I've successfully made!