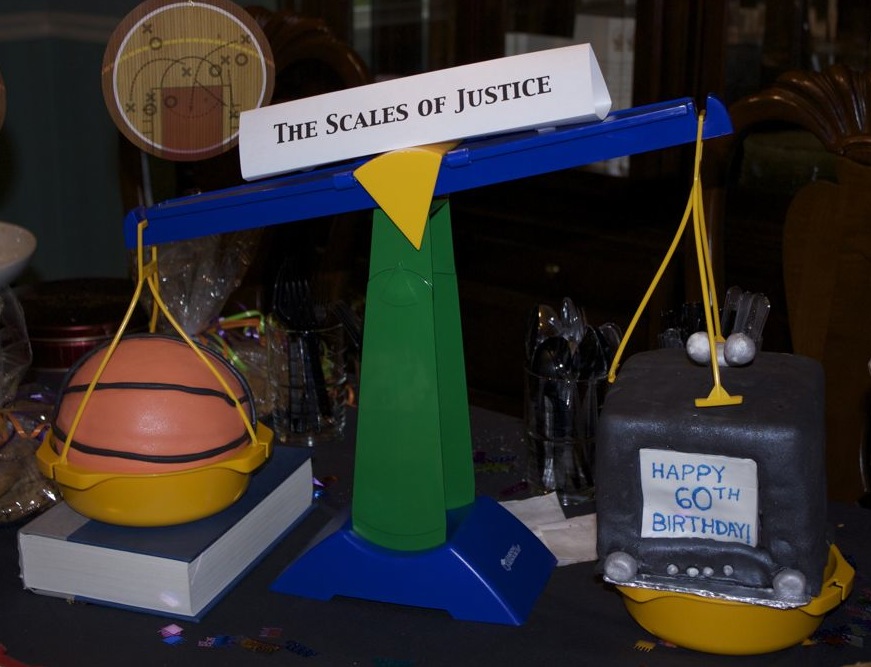 This weekend we went up to NJ to celebrate the Ellster's 60th birthday. The Ellster is Melissa's dad and he's pretty much just awesome. We've managed to celebrate the many of the major holidays with the Medoways and every visit is a ton of fun, filled with laughing, relaxing, and eating. Always eating. Usually I put in some training before going to visit the Medoways (you know, eating whole heads of cabbage to stretch my stomach and the such), but this time I didn't have time to appropriately prepare. Thus, I left today feeling "full to the neck" as my old friend Dr. Henry used to say.
The Ellster and The Darster
Yes, their names are eerily similar to The Jackster. This is not a coincidence. They are terrific people whom I've known since I met Melissa in college. Over the years, I would say we've grown pretty close and I love getting to see them. You guys rule!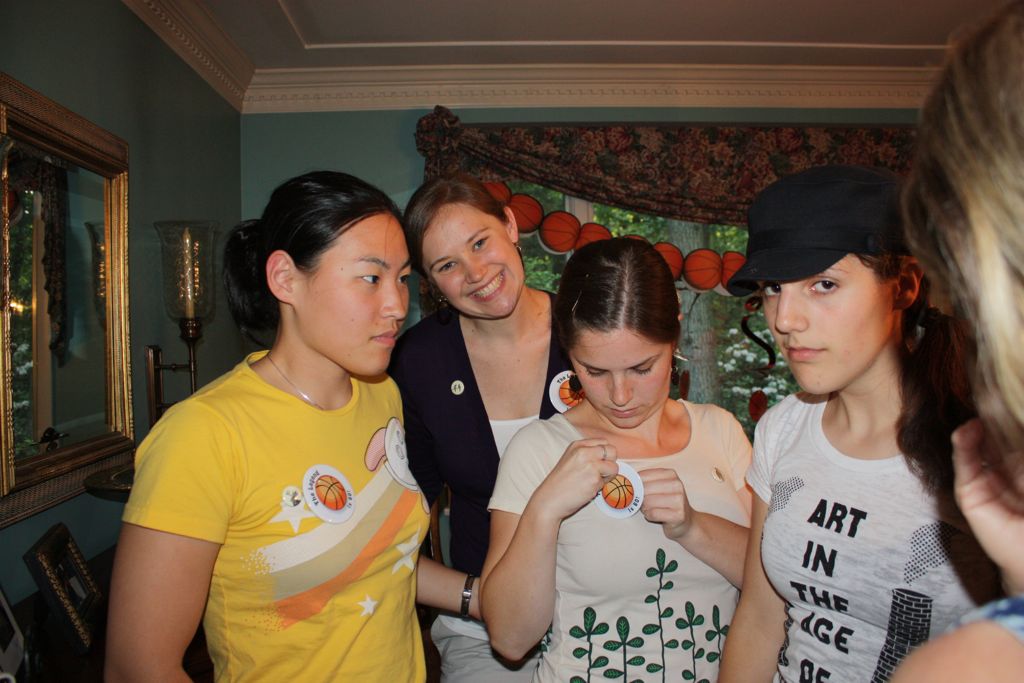 I pretty much had to include this picture because I find it hilarious that no one is really paying attention except Jen who delights us with a lovely smile. Meri seems vaguely aware of the camera, but Melissa and I? We have more important things on our minds (I believe mine was, "How many of these small desserts can I consume before my stomach actually explodes. And is it worth it? Yes.")
Ok, back to the cake. I suppose it deserves a bit of explanation. Melissa is in law school. Melissa's dad is a lawyer. Hence, lots of lawyer-ly commenting happens. Lots of pacing and screaming of "Objection!". (Actually, none of this happens. But apparently everything I know about lawyers comes from "The Practice".) Anyways…Melissa came up with the idea of a "Scales of Justice". But not any old scales. There has to be a delicate balance between the two things Melissa's dad loves – basketball and TV.  Thus the cake idea was born. It was truely a collaborative effort. Melissa provided the idea, Jen provided the scales (because who else but The Best Pre-K Teacher In the World would have scales readily available?), and I provided the cakes.
The basketball cake was made using the Wilton ball pan and the TV was made of three (3) stacked 6-in square pans. To make these cakes, I doubled the recipe.
The cakes were almond-flavored with vanilla frosting. It took me a while, but I'm getting closer to finding the perfect cake recipe. In order to carve a cake, it needs to be firm. But I've found people don't enjoy a super-dense cake as much. This cake is still a little soft for serious carving, but for designs like this, it works just fine.
Almond Cake
1 cup of butter, softened
2 cups of sugar
4 eggs
3 cups of all-purpose flour
4 1/2 tsp baking powder
1 1/2 tsp salt
1 cup milk
1 tsp almond extract
Using a stand mixer or hand mixer, cream the butter and sugar until fluffy. Add the eggs one at a time, making sure each egg is fully incorporated before adding the next one.
In a separate bowl, combine the flour, baking powder and salt.
Add the dry ingredients to the butter and sugar mixture in thirds, alternating with the milk until the batter is uniform. Be sure to scrape down the bottom and the sides of the bowl to get any of the creamed butter and sugar.
Add the almond extract.
Grease and flour three (3) 8-inch round pans. (I've also used two (2) 10-inch round pans, which results in slightly thicker cakes). Divide the batter equally into the three pans.
Bake for 30-35 minutes at 350º.
Let cool for 10-15 minutes in the pans before trying to remove them from the pans. Let the cool completely before decorating.